Meet Our Southern Nightingales
A day in the life of our Southern Trust Nightingales….
2020 has been recognised as the "International Year of the Nurse and Midwife". A cohort of 15 nurses and midwifes from across our directorates have been given the opportunity to undertake the Nightingale Programme.
Although COVID-19 stalled the programme temporarily, it has now recommenced allowing this group of staff to participate in a range of developmental and leadership opportunities.
We have asked them to reflect on their experiences as young leaders whilst working during the COVID-19 pandemic and hope to present their journeys over the coming months.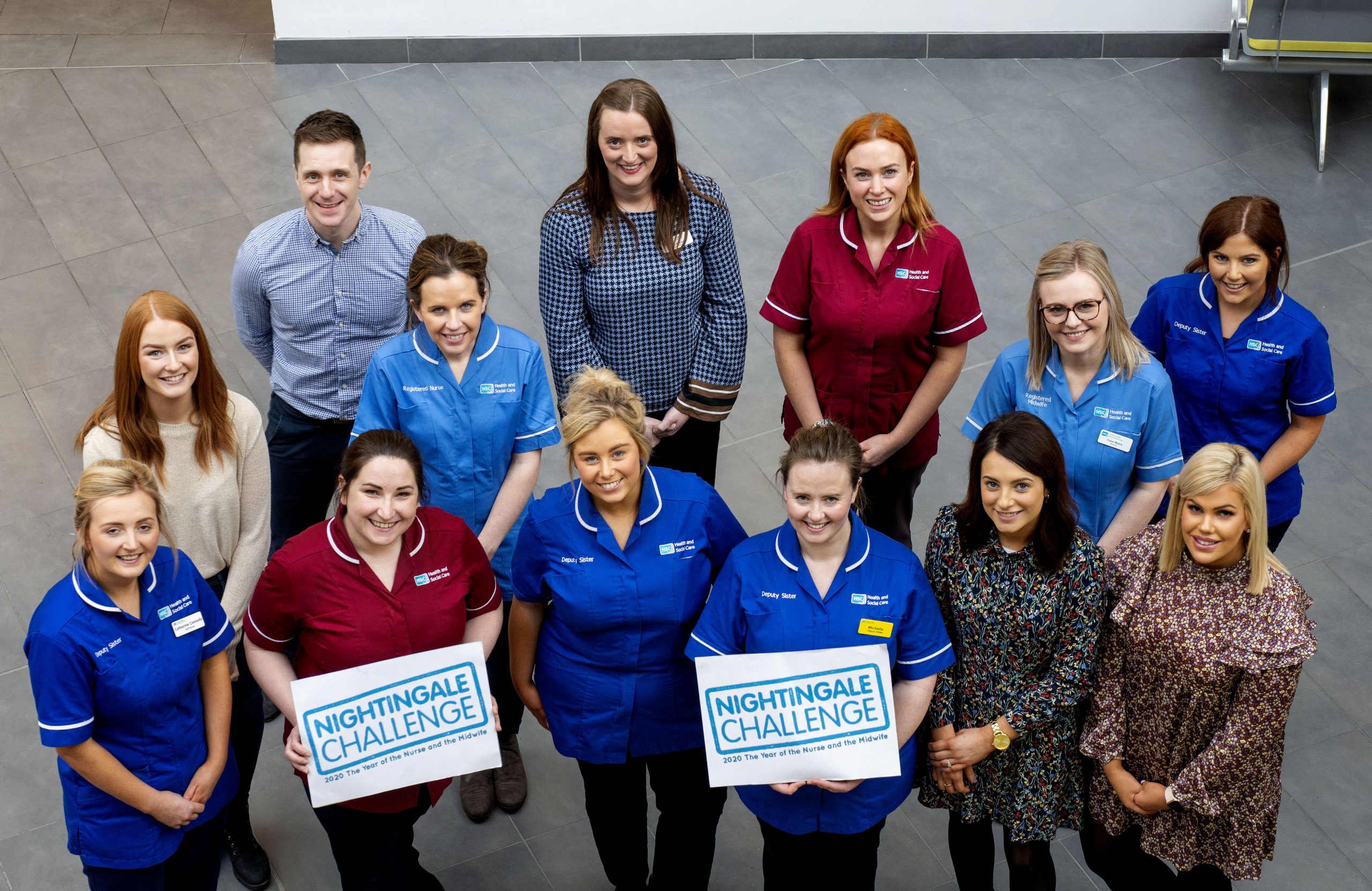 ---
Michael McMullan, Mental health Nurse based in Community Addictions

Michael has compiled his reflection into a poem:

Coronavirus (March 2020)

On every news channel

There's an eerie sense of doom

With the constant echoing message

Of "the worst will be here soon"

We've only got the start of it

There's plenty more to come

So please wash your hands

After you wipe your bum

Things are getting worse

New measures are now in place

Stay six feet from others

And don't touch your face

Cough into a tissue

Or sneeze on your sleeve

Disinfect the house

After the neighbours leave

The panic has set in now

Around the world as a whole

We're running out of patience

And fighting over toilet roll

Pasta is getting scarce

Hand-gel I cannot find

People are going crazy

And starting to lose their mind

We're feeding our fears needlessly

Heeding stories from any source

It's only the advice from specialists

We have to listen to and endorse

Schools are now closed

And social distancing is key

Stopping this coronavirus

Is down to you and me

So distance yourself from others

Don't let them in the house

But there's no getting rid of

The children or the spouse

If you have any symptoms

Like a temperature or a cough

Please just be sensible

And isolate yourself off

Take the advice seriously

And give your doctor a ring

We have to help one another

Until we get over this thing

Don't visit the elderly

Or those at high risk

Bring them their essentials

But make the drop off brisk

This virus has no borders

Nor does it discriminate

So if there's a chance you have it

You need to hibernate

Be kind to each other

And go that extra mile

Help those in need

And make a stranger smile

For it is in this adversity

That we will find the value of life

That respecting others matters

Whether it's a stranger or your wife

Don't leave another to suffer

In pain or in distress

It is more than just you

Trying to survive this mess

We'll have to be creative

Playing in our back yards

Getting out the board games

Or playing a game of cards

Take this opportunity

To have some valuable family time

It won't always be easy

Listening to each other whine

It's good to see some humour

When it is done in good taste

We will get through this hardship

Like all the others we have faced

But please be sensitive

And show compassion too

As people will suffer heartbreak

They have loved ones like you

So think about the vulnerable

And only buy what you need

If we stick together, while staying apart

We are sure to succeed

In these hard times we will stumble

But may we never fall apart

Never give up on each other

Find the kindness in your heart

So be kind to one another

And give your hands a good clean

And as the world comes together

We'll defeat COVID-19

Ciara Murphy, Adult Learning Disability Nurse working in Newry and Mourne

The World Health Organization designated 2020 as the "International Year of the Nurse and the Midwife," in honour of the 200th anniversary of Florence Nightingale's birth. Little did I know that indeed it would be the year where we as a nursing profession stepped up to battle the COVID-19 pandemic together.

I had a dual role during the pandemic. As well as a learning disability nurse working within a community adult learning disability team, I also was a link nurse who supported colleagues in the independent sector, nursing homes and supported living facilities. This role involved training and supporting staff and facilities with infection prevention control measures and the appropriate use of PPE and to ensure that all facilities were aware of the updated PHA guidance at all times. This role gave me the opportunity to upskill myself in areas that typically learning disability nurses do not have the opportunity to which will positively change the way I will work in the future.  We were supported in this link nurse role by senior team leads who communicated regularly with us, this was a wonderful resource to have and showed me the essence of effective leadership, which I hope to model going forward in my career. For me I have grown both personally and professionally and with the added knowledge and skills it helped me gain confidence in providing a leadership role within various settings in relation to COVID-19.

Key leadership skills that I was able to demonstrate included crisis management, working through competing demands, dealing with difficult situations and having difficult conversations. Subsequently I have gained resilience, self-assurance and composure which will help me to continue in my current busy role and role model for other nurses / staff within my team

Unfortunately, I had first-hand experience of dealing with a service user and their family who sadly lost their life to COVID-19 during this pandemic. This was a surreal experience for me as a young nurse who had a good rapport with this service user and their family and I had to manage my emotions and maintain composure to ensure I was fully supportive to them all at this time. I was involved in dealing with acute hospital services, disability services, Independent advocacy services, family and legal team and became an advocate for ensuring this patient was cared for appropriately within acute hospital services.  I have developed my skills in relation to 'compassionate' leadership, keeping calm under pressurising circumstances and maintaining my professionalism whilst fulfilling my day to day role.

This pandemic has most definitely changed the way I work as a nurse. It has strengthened my dedication and commitment to ensuring people with a learning disability health needs are met safe and effectively. It has reinforced my leadership abilities and has made me more pro-active in reflecting on previous practice, negotiating and adapting and learning from experiences. It has also allowed me to see true leadership in action, and this is something I aspire to be.

I have been privileged to work alongside amazing colleagues, fellow nurses, SLTs, OTs, Consultants, social workers and Physios who all have played vital roles in supporting our service users during this challenging and pressurised time. And whilst we continue to respond to COVID-19 in the months ahead I look forward to continuing to rise to the challenge.