Carers' Support

We recognise the essential and valuable role that carers play and we are committed to ensuring that carers are supported in their caring role.
Community Support Service for Carers Questionnaire
The Southern Health and Social Care Trust currently contracts with an independent provider to deliver a range of flexible and responsive community  support services for carers.
The current contract is due to end in Spring 2021 and the Trust is starting a process to retender for the provision of this service. We want to engage with  carers and stakeholders to ensure that the new contract is appropriately informed and that future carer support services are fitting and effective.
This questionnaire is an important method of ensuring that we get your views. We would be grateful if you would take time to complete it and submit your responses before 5pm on 5 October 2020.
You can complete the questionnaire directly online by opening the following link https://consultations.nidirect.gov.uk/hsc-southern-health-social-care-trust/1f1c15b4
or you can download a copy of the questionnaire by clicking the image below.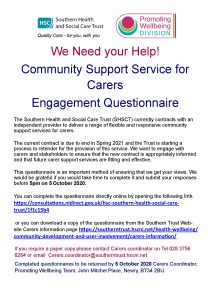 If you require a paper copy please contact Carers coordinator on Tel 028 3756 6284 or email  Carers.coordinator@southerntrust.hscni.net
Completed questionnaires to be returned by 5 October 2020 Carers Coordinator, Promoting Wellbeing Team, John Mitchel Place, Newry, BT34 2BU.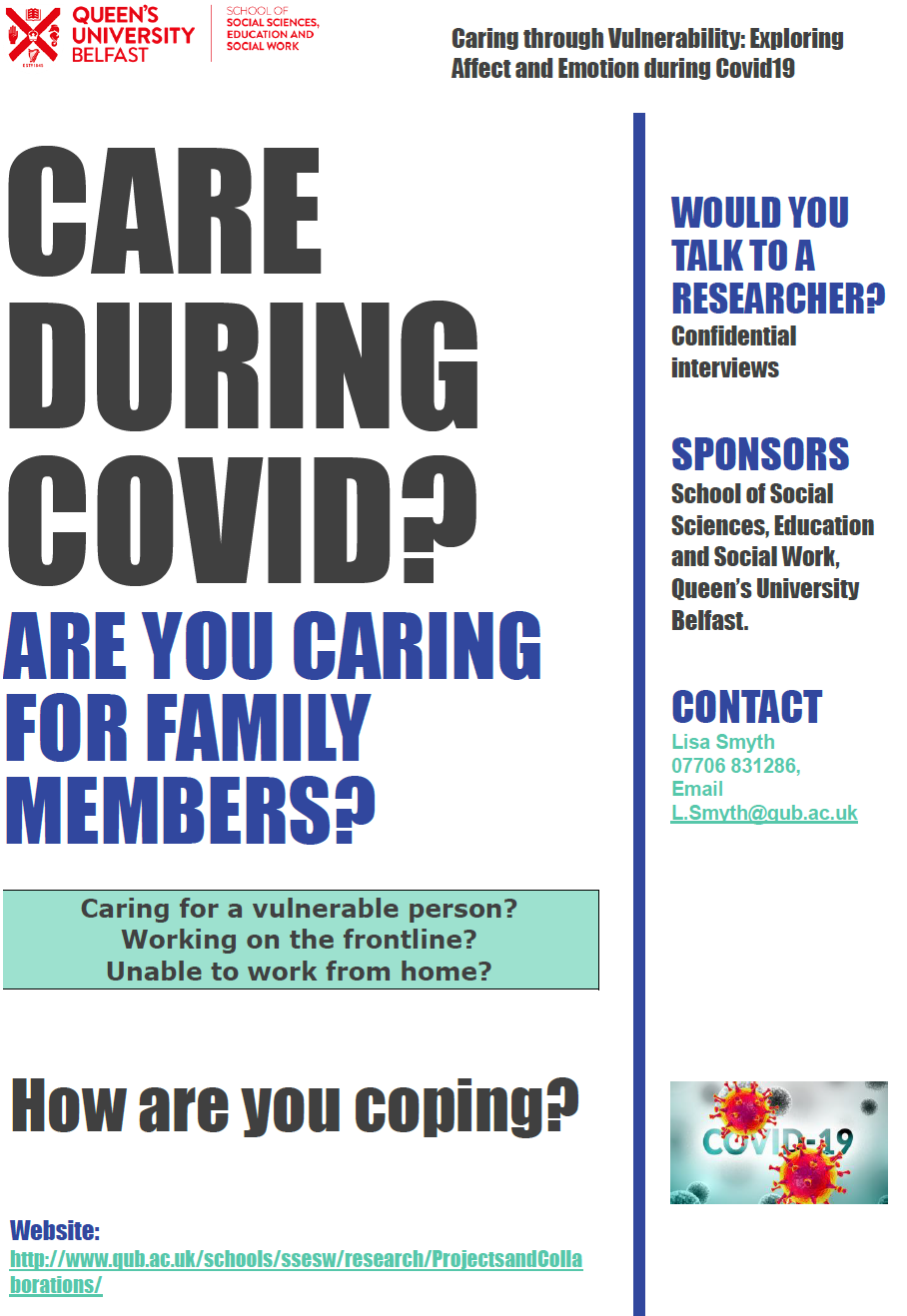 Care during COVID-19?
Are you caring for a vulnerable family member? Would you be willing to take part in a small study of caring for a very vulnerable family member during the COVID19 lockdown. This study is funded by the School of Social Sciences, Education and Social Work, at Queen's University Belfast. We want to find out about the emotional impact the pandemic is having on carers in families. Contact Lisa Smyth to find out more: 07706831286, or L.Smyth@qub.ac.uk
Website: http://www.qub.ac.uk/schools/ssesw/research/ProjectsandCollaborations/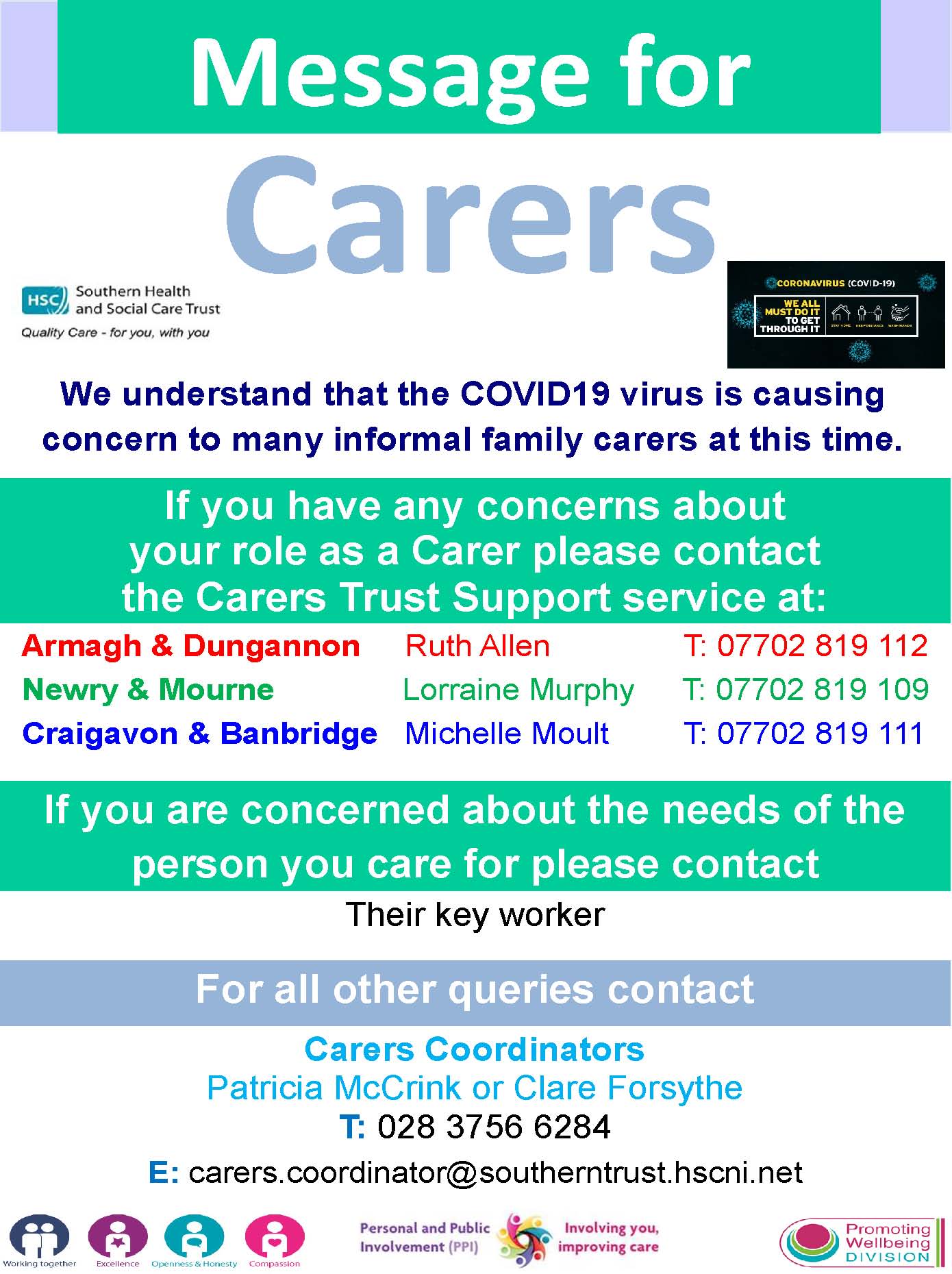 Support and information during COVID-19
Carers Allowance 
During the Covid-19 pandemic, new measures allow unpaid carers to continue to claim Carer's Allowance if they have a temporary break in caring, because they or the person they care for gets coronavirus or if they have to isolate because of it.
Department for Communities has also confirmed that providing emotional support counts towards the Carer's Allowance threshold of 35 hours of care a week. This applies to:
carers who live in a different household from the disabled person and whose only contact with them is now going to be in the form of emotional support via the telephone and social media
new claims as well as for those already receiving Carer's Allowance
This is temporary but could be useful to those who suddenly find themselves in a caring role or who previously didn't meet the criteria of providing care for 35 hrs per week or more.
---
Listening to your views
In our recent consultation with carers, you told us that you had limited knowledge of the support and resources available for carers across the Southern Trust area.  In response, we have developed a BOOKLET and new online content so that carers can follow up and access the support they need.
Access this information using the links below.
Support Services and Resources for Carers
About the Trust's Carer Support Framework
We recognise the essential and valuable role that carers play in the delivery of safe and effective care to the person cared for and as such we are committed to ensuring that carers are supported in their caring role:
through Trust services
through commissioned services
by referral or signposting to other service providers
by raising awareness of the support services available locally
Our Carer Support Framework includes:
A Lead Executive Director for Carers to provide overall direction and drive for carer's support within the organisation
A Non-Executive Director for Carers
A Carer's Reference Group to coordinate and address the on-going needs and issues relating to carers in the Southern Trust area.
An Annual Carers' Action Plan
A Carer Focus Group of social work staff to discuss best practice
Quarterly performance reports in relation to the Caring for Carers' Strategy
A Carers' Coordinator to support the role of carers and implement the SHSCT Carer Strategy
Carers Champions within each programme of care to drive improvements to carer support
For more information on each of these areas of work, read our INFORMATION BOOKLET on carers support.
Useful contact numbers