Bone Health and Osteoporosis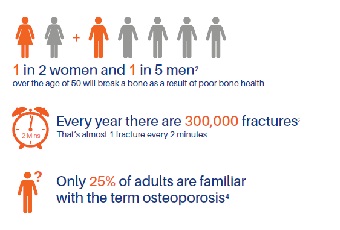 Bones are a living tissue and their strength and development are affected by the genes we inherit from our parents as well as a number of lifestyle factors such as diet, alcohol, smoking and physical activity levels. Poor bone health can lead to osteoporosis, which is an incurable condition. Osteoporosis literally means porous bones.
If you have osteoporosis you are more likely to suffer from fragility fractures (broken bones) even if you fall from a low height or have a minor bump. These fragility fractures are most common in the wrist, hip and spine, although other parts of the body can also be affected.
New – Free Phone NOS Helpline
From August 2015 the NOS has introduced free calls to their helpline number. Calls are free from mobiles, landlines and BT call boxes. This service is provided by nurses with specialist knowledge of osteoporosis and bone health. They can provide you with a personal reply backed up by information provided in electronic or printed format. For details on the service click here or Tel:  0808 800 0035
World Osteoporosis Day
World Osteoporosis Day (WOD) is a key date in the bone, muscle and joint community agenda. The campaign is organized by the International Osteoporosis Foundation.
This year's campaign focuses on the importance of adopting a bone-healthy diet through a person's lifetime to optimize bone strength. For further information on this year's campaign visit: http://www.worldosteoporosisday.org/
A range of free resources are available including:
a one minute risk test
a calcium calculator
posters,
a campaign toolkit to help you support the campaign in your locality or organization
and much more.
Talk to your GP
It is important that you talk to your doctor if you have concerns about your bone health or you wish to get a bone check. A helpful FACTSHEET has been developed by the National Osteoporosis Society which provides advice on how to discuss bone health with your doctor.
Vitamin D and Care in the Sun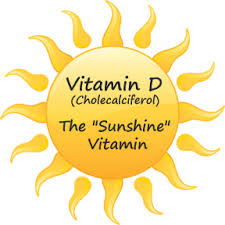 Vitamin D is an essential nutrient required by the everyone to help build strong bones. The best source of Vitamin D is from safe exposure to sunlight during the warmer and brighter months of the year.
Small regular amounts of exposure can help the body produce enough Vitamin D for the entire year. The National Osteoporosis Society's Sunlight campaign explains the importance of sunlight and provides tips on how to safely obtain it.
In Feb 2012, the four Chief Medical Officers of the UK issued guidance having recognised that some indiviudals within the population are deficient in Vitamin D and may require supplements in order to maintain good health and bone strength. Since then a booklet 'Vitamin D and You' has been produced by the Public Health Agency (Northern Ireland) explaining the groups at risk of deficiency, how to obtain more Vitamin D and why it is important for the body.
Balancing our body's need for Vitamin D against our need to prevent burns and sun damage to our skin, which can lead to skin cancer is quite difficult. The National Institute for Clinical Excellence (NICE) New Guideline on Sunlight Exposure – Benefits and Risks can be viewed HERE.
In the meantime a new UV App (for phones and tablet devices) has been developed by the British Association of Dermatologists (BAD) and the MET Office. This free tool can be used on your mobile device to get a UV reading for anywhere in the UK. Knowing the UV level in your location is a useful tool in helping you keep an eye of the sun's rays and being aware when they reach harmful levels.
For more information on organisations involved in skin awareness programmes and campaigns contact Cancer Focus NI
Mushrooms and Vitamin D
Most people are aware that vitamin D is commonly added to some of the foods we eat e.g. bread and margarine. However, last year scientists presented a study at the American Society for Biochemistry and Microbiology meeting in Boston showing that any mushrooms could be enriched with Vitamin D by placing them in sunlight between 10am and 3pm for 30 to 60 minutes.
Information Available in a Range of Languages
The NOS has translated its key publication Introduction to |Osteoporosis into seven languages: Bengali, Chinese, Gujarati, Hindi, Polish, Urdu and Welsh. The leaflet is now available to download HERE.
National Osteoporosis Society (NOS)
According to the NOS, almost one in two women and one in five men over the age of 50 will break a bone, mainly due to osteoporosis. To understand how bone health, falls and fractures are related.
The NOS provide a great deal of information for people concerned about or already diagnosed with osteoporosis. To learn more about the work that they do and the information they can provide CLICK HERE.
Bone Health Seminar (February 2015)
The Promoting Wellbeing Team organised a Bone Health Seminar for health professionals and other staff/volunteers working with older people. The event was very well received by those who attended. A copy of the programme and the presentations are available below.
Irish Osteoporosis Society (IOS)
The IOS also provides information to the public and health professionals on all aspects of the disease and offers support to people with Osteoporosis, their families, and everyone at risk from the disease. For more information CLICK HERE.
Now read about HYDRATION and the importance of having enough fluids