Dementia and Falls
Current estimates put the number of people living with dementia in Northern Ireland at 20,000 and this number is expected to rise to 60,000 over the next 30 years. People experiencing memory loss or dementia can be at increased risk of accidents including falls. There are many risk factors associated with falls even in a healthy older person but when factoring in the effects of dementia the risk factors increase greatly. Confusion, medication, dehydration, lack of physical activity, weight loss, delirium and many other factors can all play a part.
In June 2016 a video was launched to highlight the condition delirium. This condition can be very common among older people and those suffering from dementia. To view the video and understand how to spot the signs of delirium CLICK HERE.
Dementia Together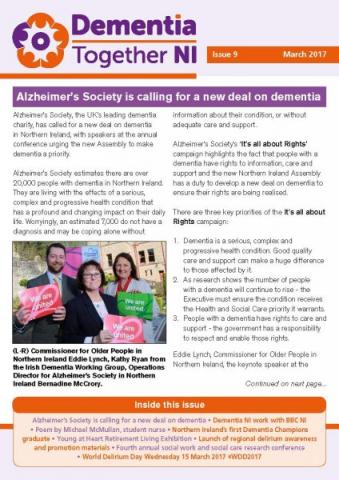 The Public Health Agency (PHA) and Health and Social Care Board (HSCB) are working jointly with the Alzheimer's Society, Dementia NI and Health and Social Care Trusts to promote a culture which ensures people with dementia are supported to live with dignity and without stigma. For more information on Dementia if you live in Northern Ireland visit: www.nidirect.gov.uk/campaigns/dementia  
Newsletters published by Dementia Together project can be viewed HERE 
Information
AgeUK have produced a number of free booklets on the topic of dementia which can be downloaded or ordered free of charge through their publication helpline Tel: 0800 169 65 65.
SHSCT Trust Services (Memory loss & Dementia)
The Memory Service provides a specialist, holistic, multi-disciplinary response for those people who experience memory difficulties. If you, the person you care for, or someone you know is experiencing memory problems or have been diagnosed with a dementia illness, the following services are offered by a team of 45 practitioners from medicine, mental health nursing, social work, and Allied Health Professions backgrounds that specialise in the area of dementia care. For further information visit MEMORY SERVICE
Organisations That Can Help
Dementia Northern Ireland www.dementiani.org/ is a NI charity that was established in 2015 to provide a voice for people who are living with a diagnosis of dementia and to reach out to others who have dementia. Today Dementia NI is a membership organization led by people with dementia who are developing empowerment groups across Northern Ireland, with support from staff and volunteers.
The Southern Trust Empowerment Group meets in Brownlow Community Hub Every other Tuesday 1.30-3.30pm – light refreshments are provided. For further information contact Paula Canney on Mob: 079 6688 1422 or email paula@dementiani.org (spaces are limited)