Medication
Medicines … Did You Know?
You could be at risk of falling if you are taking four or more medications (polypharmacy) whether prescribed, over-the-counter or a combination of these.
All medications have side-effects and some types can increase the risk of falling eg sedatives and antidepressants. Side-effects will vary from person to person.
In 2013/14, 37 million prescription items were dispensed in primary care in Northern Ireland.
At any one time, 70% of the population is taking a medicine to treat or prevent ill health or to enhance wellbeing.
Up to 50 per cent of people do not take their medicines a prescribed and this not only contributes to poor health, but also adds to pressures on our health and social care services.
1 in 15 unplanned admissions to hospital are associated with medicines.
Have You Had Your Annual Medication Use Review (MUR)?
If you are taking regular repeat medicines, you should have an annual medication use review with your GP or Pharmacist who will ensure that you are taking only the medicines that you still need, the right type of medicine for your ailments or condition, at the right dose and at the right time. Before you attend a medication review complete
My Current Medicines Form
Complete THIS FORM so that the person conducting the review has all the information they require about the medicines you are taking.
You Should Talk to Your Doctor or Pharmacist If….
you experience any of the following symptoms:
drowsiness
dizziness
light headedness
unsteadiness
blurred or double vision
difficulty thinking clearly
Side-effects can change when different medicines are combined
Tips for Talking to Your GP About Falls
This LEAFLET provides practical tips on talking to you GP if you have had a fall or are concerned about falling.
Ways to Manage Medicines
1. Take an active involvement in the medicines you take.
2. Ask questions about it. Questions you should ask include:
Why am I getting this drug and what does it do?
How, when and for how long will I have to take it?
Will it interfere with any of the other medications I am taking?
Will it cure my condition or is it just to give me relief from my symptoms?
What are the possible side effects – are they minor or major, common or rare?
Do the benefits outweigh the risks?
What are my non-drug alternatives, ie are there any lifestyle changes I can make which will help address my condition or relieve my symptoms or are there any alternative therapies or treatments I could try?
3. Be sure you know when to take your medicines and what they're for.
4. Find out about possible side-effects and plan ahead.
5. Ask your GP or pharmacist about using a special pack such as a dosette box or a blister pack to help you separate your medicines into the times and days when you need to take them.
6. Check before mixing prescription medicines (from your doctor), over-the-counter medicines (such as vitamins, herbal remedies and painkillers) or alternative medicines. These can all affect you and might increase your risk of falling.
Important – Do not stop or change dosage of long term medications without consulting your GP or Pharmacist first.
Free Pill Manager Tool for your Mobile Phone, Tablet device or PC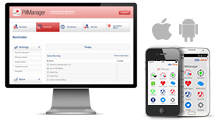 If you are having difficulty remembering when to take your medicines there are useful tools that you can use to help you remember.
The PillManager app is available for iOS and Android-based mobile phones, as well as on the web, and serves as both a medication dosage reminder ( except the web based version where reminders cannot be activated) and a handheld reordering tool. For more information on this mobile app visit: http://www.pillmanager.co.uk/ Features of the app include:
Medication Scheduler – The built in medication scheduler allows you to input your own medication, including the name, number of doses and reminder times. Individual medication can then have its dosage frequency altered and the app can attribute a certain number of days to each medicine if the user's schedule is not indefinite.
Medication History – The PillManager app securely stores your medication history, allowing you to sort and view your consumption by date. This information can also be shared directly with other interested parties via email, such as carers, doctors and pharmacists. The App also allows you to manage and keep track of most of their critical medical records securely in one place.
Medication Reordering – The PillManager app offers the first integrated universal reordering system of any medical utility app. You can reorder your own personal list of medicines using medication data stored within the app by transmitting a customised list via email. Alternatively, you can send an image of their prescription in the same manner, directly to your doctor or pharmacist for fulfilment.
Dysphagia – Difficulties Swallowing Pills
If you or someone you care for struggles to swallow pills, you should discuss it with your doctor or pharmacist. Alternative forms of the medicine are sometimes available, or you may just need to experiment with some simple swallowing techniques. The NHS Choices website gives some basic advice and outlines the clinical and legal issues around crushing tablets or opening capsules.
This advice applies to:
•adults who have difficulty swallowing pills
•parents of children who struggle to swallow pills
•nurses or carers of people with dysphagia (swallowing problems).
Being unable to swallow tablets and capsules is not uncommon and it can happen for a wide variety of reasons. Very often patients who cannot swallow solid medicines are still being prescribed them and they then resort to crushing or dispersing them in water.
Although this can be safe in most cases, it is always necessary to check before doing so, usually by asking your pharmacist. Frequently, patients crush tablets and open capsules because they are not aware of what else is available. The database on the Swallowing Difficulties Website can be viewed from: www.swallowingdifficulties.com/ – this helps you to check what different forms of your medicine are available and to see whether or not they are safe to crush or disperse. Information on different coatings and what this means for crushing is provided as well as information on different formulations and how to administer them.
Drugs for mental health conditions and their side-effects
The website Choice and Medication from the Health and Social Care Board, provides detailed information for people who use mental health services, their carers and professionals, about the various medicines available for treating mental health illness and how these drugs work, side effects etc.
The Northern Ireland Formulary
The medicines included in the Northern Ireland Formulary are the most tried and trusted available and will provide the best treatment for the majority of patients. The Northern Ireland Formulary will not cover all drugs or conditions.
What is a formulary?
A formulary is a preferred list of medicines which your doctor would choose to prescribe for you if appropriate. The medicines are chosen on the basis of:
How well the medicine works to treat the condition
How safe the drug is (does it cause harmful effects)
Whether it is good value.
Medication and Falls Information Session for Health Professionals (June 2015)
An information session was held on 10 June for health professionals in the SHSCT working with older people. Social workers, District Nurses, Physiotherapists, Occupational Therapists, Nurses from the Memory team and nurses supporting people with long-term conditions attended. The session included two presentations the first focused on medication as a falls risk factor and ways in which to improve medication management and safety to improve health and wellbeing and reduce falls risk. The second presentation focused on the new 10 year Home Accident Prevention Strategy for Northern Ireland and gave an overview of the SHSCT's Falls Prevention Directory.  The presentations are available below:
Now read about how to MAKE YOUR HOME SAFE.