Stop Smoking Services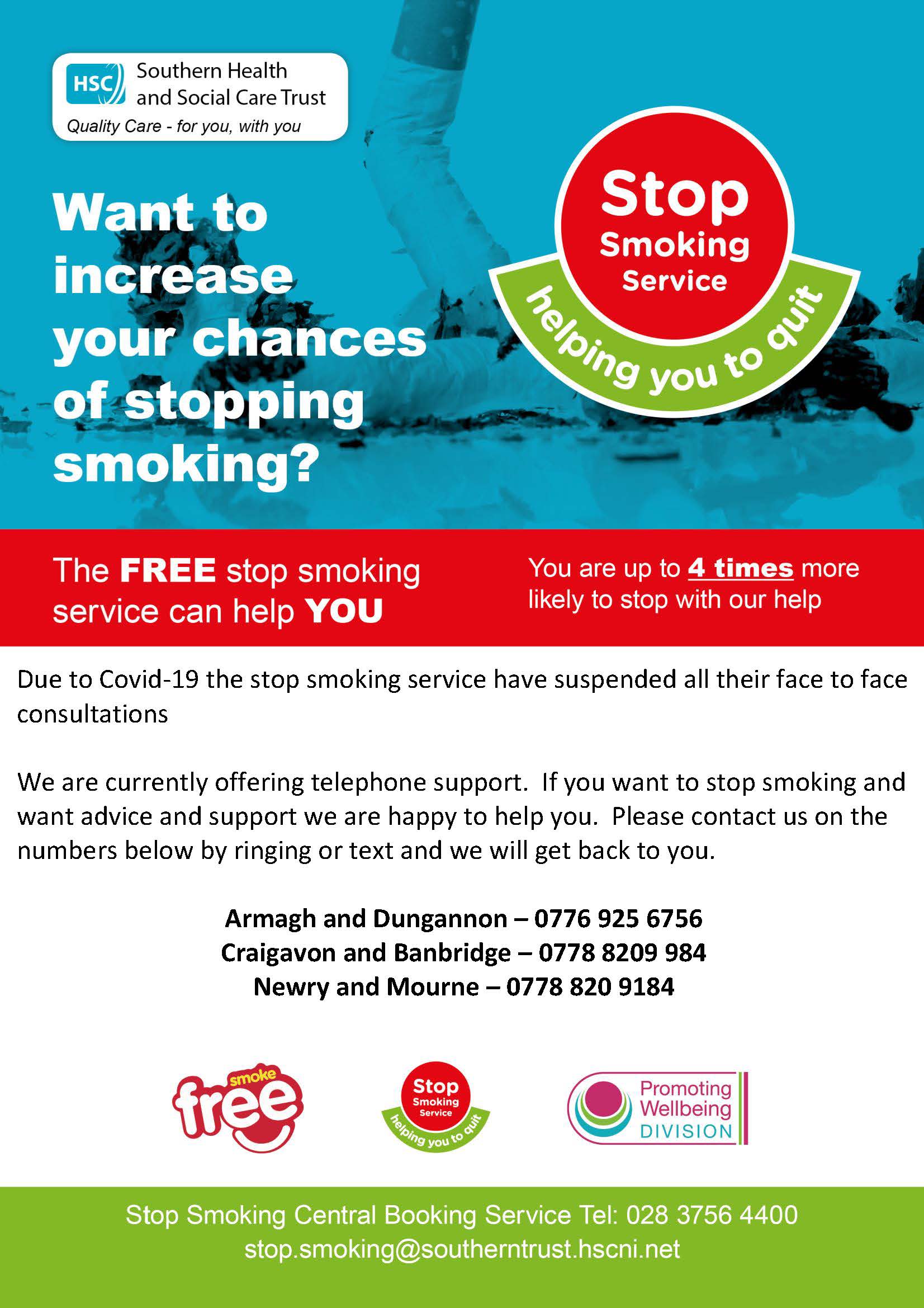 Smoking is the single greatest cause of preventable illness and premature death in Northern Ireland.  It kills at least 2,300 people each year and many more are affected through passive smoking.
Whilst population smoking levels have reduced significantly over recent years, at 21% the Southern area still has above average levels.
The Southern Trust has committed to supporting those who want to stop smoking and progressing regional strategies for a smoke free environment.
COVID-19 update
Smokers are likely to be more vulnerable to COVID-19 as the act of smoking means increasing the risk of transmission of the virus from hand to mouth.
Smokers can also have reduced lung capacity which can greatly increase the risk of serious illness. There has never been a more important time to stop. You can make a huge contribution to your health and to protect against coronavirus by stopping smoking.
---
---
We provide Stop Smoking Support Clinics across the Southern Trust area, based in local health centres, GP surgeries, hospitals and community settings.
We also want to ensure that our sites are supporting the health and wellbeing of staff and patients, which is why we have gone Smoke Free.  The Promoting Wellbeing Division also lead on implementing the Smoke Free Strategy for Trust sites.
Brief Intervention Training is offered to those who are interested in motivating others to stop smoking.
Key contacts:
Contact the Trust Smoking Cessation Service on Tel: 028 3756 4400 (Monday to Friday 9am-5pm)   Email: stop.smoking@southerntrust.hscni.net or get in touch with your local Stop Smoking Specialist.
Public Health Agency – for advice and support on stopping please CLICK HERE