Visiting Information
In response to the COVID 19 pandemic, the Government restriction of movements and to protect patients, their families and all our staff, the HSC are temporarily restricting the number of visitors across hospitals. With immediate effect all visits to general hospitals has now stopped.
Whilst there are some exceptions to this these restrictions are subject to further review.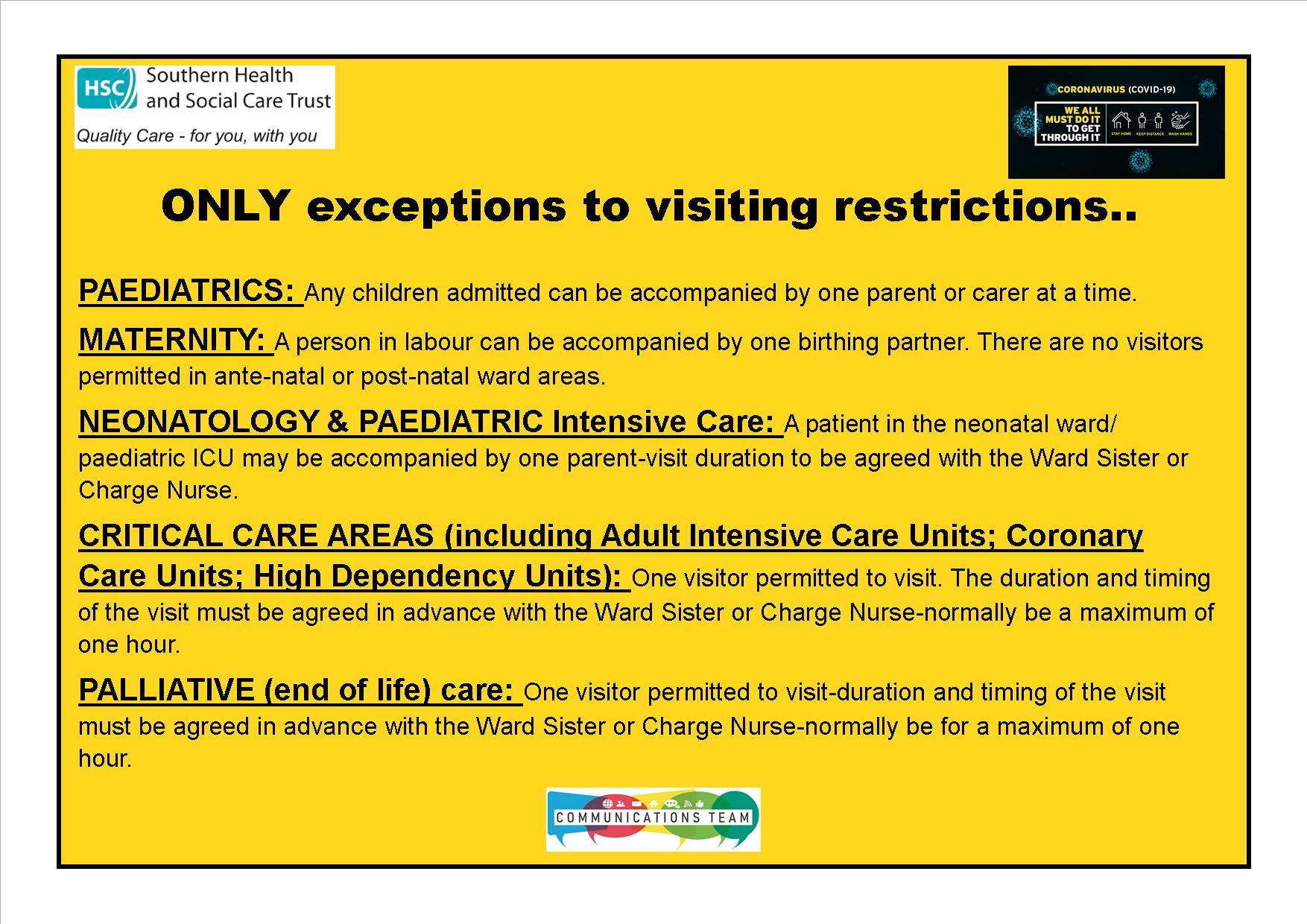 DO NOT visit if you are feeling unwell, especially if you have a high temperature or new persistent cough. Children are also not permitted to visit.
Visitors must ensure that they carry out full hand washing or use sanitizer on entry when visiting. They should be bare below the elbows, and have no jewellery except a flat wedding band. Hands should be washed or sanitizer used when leaving.
If you can, please arrange a 'virtual visit' with your relative or friend on their smartphone or tablet. All HSC sites have access to free WI-FI and our staff will help set this up on the patient's device. Please be patient as our staff will have to prioritise clinical work and patient care. Staff will monitor the use of technology in order to ensure the privacy and dignity of patients in their care at all times.
Whilst this policy is for use in hospital settings we would encourage its adoption for people receiving PALLIATIVE (end of life) care in other settings such as Nursing/Care Homes, Hospices and other settings. Regarding people being cared for at home you should think carefully about social distancing and Stay at Home and restrict visiting to a minimum in order to protect your immediate and extended families, carer's, relatives and friends.
Your loved one's care is our priority and we will do the very best that we can for them. We appreciate this is a very worrying time and to ensure you are updated we are asking patients to nominate one family member (or carer) to contact us. This will help us ensure staff time is directed to delivering care to patients. If your loved one is not well enough or able to designate someone, we will discuss this with next of kin.