Autumn Vaccination Programme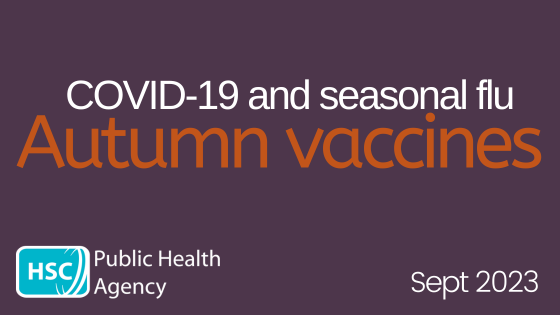 The life-saving vaccination programme which will protect Northern Ireland against deadly viruses ahead of winter will commence on 18 September. It will see flu and COVID-19 vaccines offered within eligible groups over coming months.
The COVID-19 and FLU vaccine will be offered by the Southern Trust vaccination team to the following cohorts, in line with JCVI guidance:
Frontline Health and Social Care Workers (both Covid-19 and Flu Vaccinations)
Pregnant women (both Covid-19 and Flu Vaccinations)
Those  5 – 15 years of age and  identified in clinical at risk groups (Covid-19 vaccination only)
Those aged 6 months to 4 years in clinical at risk groups identified by their Paediatrician. (Covid-19 vaccination only) – Look out for a letter or call from us advising that your child is eligible and how to make an appointment.
Those aged 12-15 identified as household contacts of the immunosuppressed (Covid-19 vaccination only)
If you have a family member in hospital seeking the vaccine and is unable to access their GP, please speak to a member of ward staff.
**Booking line is also open Mon – Fri 9.30am – 1.30pm to manage queries for parents and those clinically at risk. Tel: 028 3756 0300
Online booking for COVID-19 and Flu vaccinations is now open. 
Vaccination clinics will take place on the following dates:
| DATE | TIME | LOCATION |
| --- | --- | --- |
| Saturday 23 September | 10am - 4pm | Daisy Hill Hospital - Paediatrics Outpatients |
| Saturday 30 September | 10am - 4pm | St Luke's Hospital, Armagh - Vaccination Clinic |
Our Trust vaccination team will administer both COVID and FLU vaccines to patients who are housebound due to their medical condition. Your GP will be making this referral.
Those who are 65 years and over and those who are 16 years old and over who are immunosuppressed, clinically vulnerable, household contacts of those immunosuppressed and known carers will be called by their GP or can attend their Community Pharmacy for vaccination.