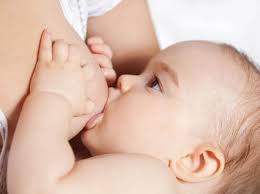 Infant Feeding in the Southern Trust
The Southern Trust promotes breastfeeding as the optimal way to feed babies and young children. Breastfeeding has many health benefits for both mum and baby. Breastfed babies are less likely to have many illnesses, including stomach, chest, and ear infection, as well as asthma, diabetes and obesity.  Breastmilk protects premature babies against serious bowel disorders and ensures better eyesight and brain development.  Mothers who breastfeed have a lower risk of developing ovarian and breast cancer and osteoporosis in later life.
By adopting the UNICEF Baby Friendly Initiative Standards and achieving Accreditation, the Trust is committed to supporting mothers to establish and sustain breastfeeding their babies. We help you understand more about breastfeeding, address any concerns you may have and help you to make the right decisions. The Infant Feeding team will provide support and information for all mothers however they choose to feed their baby.
Research has shown that good health professional and peer support has a significant impact on a mum's decision to continue breastfeeding.
Other Useful Links: