Visiting Information
The Department of Health has confirmed changes to visiting arrangements for care settings from Friday 7 May.
For Acute and Non Acute Hospitals
We remind everyone that Covid-19 remains a real threat. We continue to treat patients with Covid-19 in our hospitals and we would urge people to visit only if absolutely necessary.
We strongly encourage the use of virtual visiting. Anyone who needs help with this can call our Virtual Visiting co-ordinator between 9am and 5pm on 077 7651 6419.
To protect patients, visitors and staff – visiting at Southern Trust hospitals will be strictly BY APPOINTMENT ONLY for one nominated visitor per patient at a time and must be planned in advance. Arrangements will be made with each patient by staff.
Appointments are available from Wednesday 12 May
Please call the ward between 11am -12.30pm Monday – Friday to book a time to visit and receive instructions for accessing the ward.
Numbers of visitors per ward will be limited to ensure that social distancing can be maintained at all times. Visitors must wear a mask for the duration of their visit.
Please note that due to the infection prevention measures staff will not be able to facilitate any visitor without a pre booked appointment.
Anyone wishing to visit residential homes or mental health facilities in the Southern Trust area should contact these facilities directly.
These arrangements will be kept under constant review and will be subject to change depending on local factors.
Do not visit if you have any symptoms of Covid-19, please wash your hands, respect a social distance of two metres and wear a face mask.
http://www.health-ni.gov.uk/Covid-19-visiting-guidance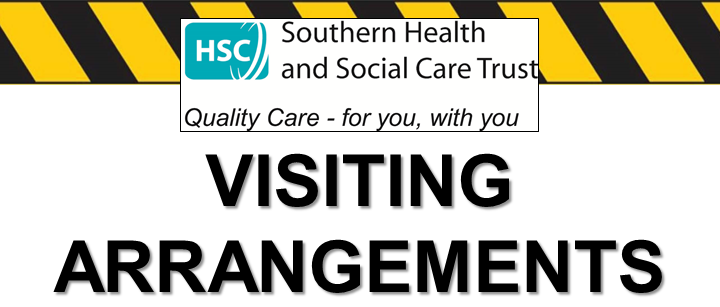 Due to the ongoing impact of COVID-19 we are regularly updating our visiting arrangements.
Virtual visiting our patients (by phone or tablet device) remains the preference.
Thank you for your co-operation
---