Physical Activity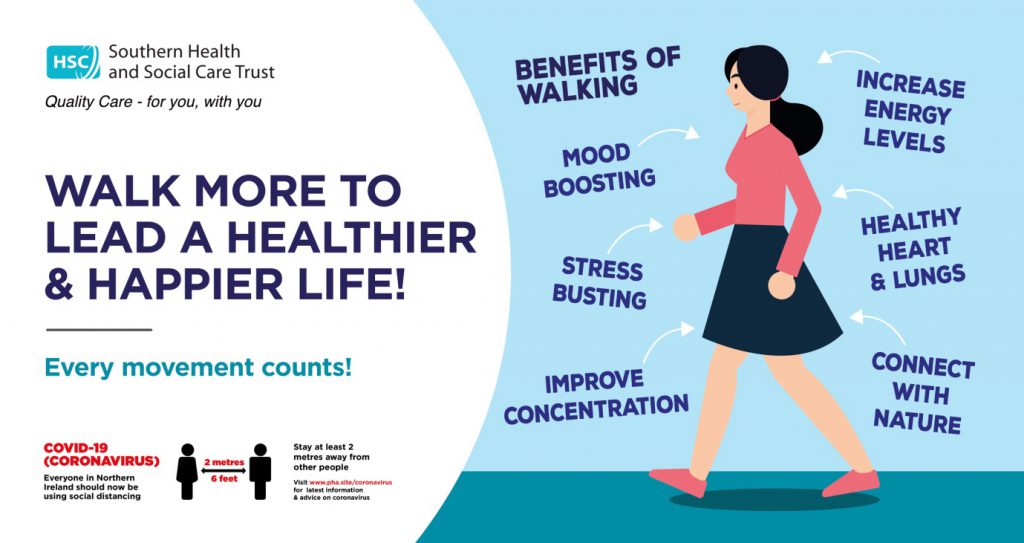 Physical activity is all about moving from one place to another. Being physically active is much easier than you think, it includes going for walks, housework,
gardening, as well as sport and exercise. You don't need to run a marathon to gain the benefits of physical activity, just move more and sit less during the day!
For many people starting to participate in physical activity can be daunting. It's important to realise that it's not about dressing in lycra, and goin
g to the gym (if that's not your thing). You can be physically active anywhere. There are many ways to increase physical activity and one of the easiest ways is to walk!
Physical activity is good for us, not only to help us physically, but also for our mental health. It doesn't matter what your age or fitness level. Move More, Sit less!
Remember: Doing something is better than nothing!
Come join us for Northern Ireland Does The Daily Mile Santa Run on Friday 3rd December 2021
The Daily Mile Network (NI) in partnership with Daily Mile Foundation are hosting a Daily Mile Santa Run day in schools & early years settings across social media, to encourage children in Northern Ireland to be active together at the same time on Friday 3rd December 2021.
"Northern Ireland Does The Daily Mile Santa Run" is a virtual mass participation event across all Northern Ireland primary and early years settings. On 3rd December 2021, schools and early years settings around the country, will run their Daily Mile Santa Run virtually, in an effort to raise awareness for children's mental health and wellbeing.
The Daily Mile Network NI co-chair and Stranmillis University College Lecturer Dr Brenda McKay-Redmond is encouraging schools to sign up to "Northern Ireland does The Daily Mile Santa Run". "Over 390 schools in Northern Ireland have signed up to The Daily Mile and now that we have children back in schools, we want to remind and encourage schools to continue to participate in The Daily Mile Santa Run. There will be a lovely gift also for the 1st, and every 25th school thereafter that signs up to the Santa Run!
Settings can register for free HERE and will receive a fun, downloadable Daily Mile Santa resource pack and certificate after the event.
For more information contact physical.activity@southerntrust.hscni.net 
---