Out of Hours and Emergency contacts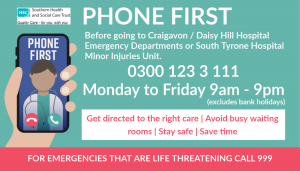 Phone First
'Phone First' is for patients (including children):
who are unwell and considering travelling to Craigavon Area Hospital or Daisy Hill Hospital  Emergency Departments (ED); or South Tyrone Hospital Minor Injuries Unit
with an injury or illness which requires urgent treatment but is not immediately life threatening.
If you have an urgent problem (excluding serious illness or injury) and are considering travelling the ED or Minor Injuries Unit please 'Phone First' between 9am and 9pm Monday to Friday on: 0300 123 3 111 (Text Relay: 18001 0300 123 3 111) Click here for FAQs


Emergency Departments:
Emergency Departments are located at Craigavon Area Hospital and Daisy Hill Hospital, Newry.
At Craigavon Area Hospital, adults should come to the main ED entrance and children should be brought to the Paediatric ED (beside maternity). At Daisy Hill Hospital, all patients should come to the main Emergency Department reception.
Both these departments continue to provide care 24 hours a day – every day. Hospital emergency departments are for people who are seriously ill or injured and need to be immediately treated.
The Emergency Department Waiting Times Information Page is a new online tool that allows the public to check the average waiting times at Emergency Departments in hospitals across Northern Ireland. The online facility is available at www.nidirect.gov.uk/emergency-department-average-waiting-times
Minor Injuries Services :
Over 5 years old – with minor  injuries e.g. cuts, sprains, minor burns.
South Tyrone Minor Injury Unit
Over 5 years old – with minor  injuries e.g. cuts, sprains, minor burns.
Monday to Friday: 9.00am – 9.00pm – Phone First 0300 1233 111

Saturdays, Sundays and Bank Holidays 10am to 6pm: If you have a minor injury and live close to South Tyrone Minor Injury Unit please phone for an appointment before you attend Tel: 028 3756 7481.  
Daisy Hill Hospital (attend ED reception)
Emergency Nurse Practitioners
Every day 9am to 10pm
Craigavon Area Hospital  (follow signs)
Emergency Nurse Practitioners
Every day 9am to 10pm
Urgent Care (GP) Out of Hours:
The Urgent Care (GP) Out of Hours Service should be used for serious urgent problems that cannot wait until your own GP surgery reopens. Please always phone first on 028 3839 9201 as many patients can be given telephone advice and will not need to attend a centre. Patients who don't phone first may have to wait longer to be seen or be redirected to a more appropriate service. Please remember to order and collect any essential repeat prescription medications from your daytime GP surgery in advance of the holiday period. GP out of hours will only provide repeat prescriptions in exceptional circumstances.
Mental Health Service Emergencies
If you have an urgent concern about the mental health of yourself or someone you know, contact the Mental Health Single Point of Referral Service. During Office Hours, telephone 028 3741 2409. For out of hours, weekends and public holidays, telephone 028 3833 4444 or 028 3083 5000.
Lifeline Helpline counsellors are available 24 hours a day, 7 days a week to give you help and support, in confidence. Telephone 0808 808 8000.
Social Work Out of Hours Service
If you need social work assistance outside of office hours, telephone 028 9504 9999. Emergency Social Work out of hours are now provided by a new Regional Emergency Social Work Service.
Dental Pain Service
Due to the ongoing COVID 19 pandemic and in line with current guidelines the emergency dental care clinic which operates at the Emergency Department at Craigavon Area Hospital, 68 Lurgan Road, Portadown is closed from Saturday 4 April 2020.
If you have a dental emergency please contact your local dentist for advice and onward referral for treatment if appropriate.
Even if you are not registered with a dentist, you can access emergency dental care from any local NHS dentist if they have availability.