Daisy Hill Hospital Update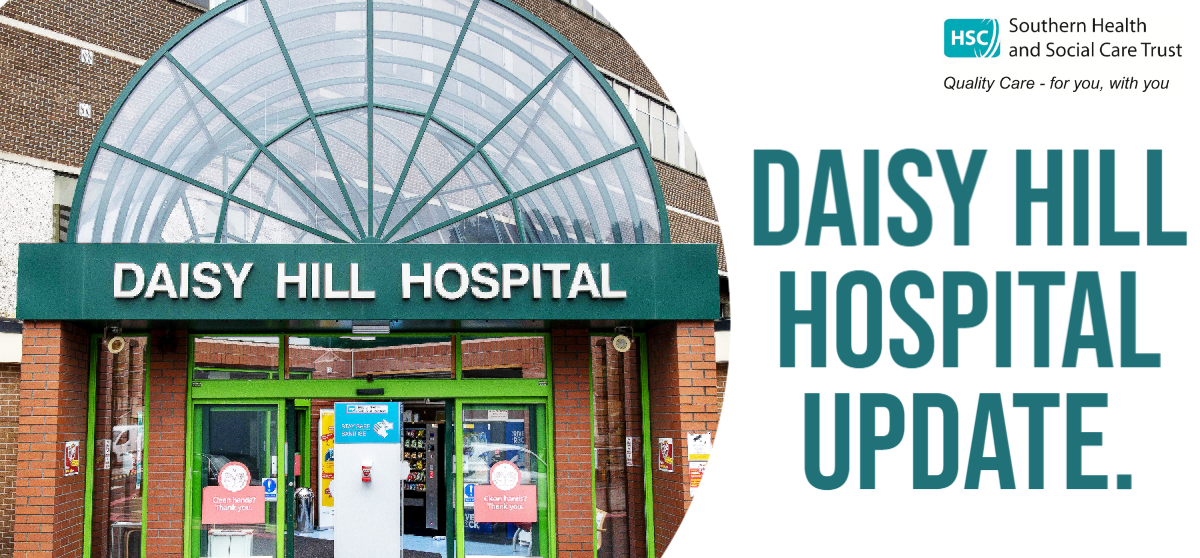 We have agreed a plan to stabilise inpatient medical services at Daisy Hill Hospital at our Trust Board meeting, which took place at Monaghan Row in Newry today.
The plan focuses on immediately stabilising services for the summer months in light of challenges with senior medical cover. Work will continue to secure the longer term sustainability of the hospital, with input from the Department of Health and wider HSC system.
The plan secures the acute status of Daisy Hill Hospital and maintains the Emergency Department on a 24/7 basis whilst minimising impact on other services.
Daisy Hill Hospital Interim Stability Plan Update 28 September 2023
Daisy Hill Hospital Interim Stability Plan Update 26 July 2023 
Daisy Hill Hospital Stability plan 22nd June 2023 
Trust Board presentation stabilisation of DHH June 2023 

Due to a shortage of stroke consultants at Daisy Hill Hospital, all suspected acute stroke patients being transferred to hospital by ambulance are being diverted to an alternative Emergency Department. Arrangements are in place 24/7 for patients who present at Daisy Hill ED and are assessed as having a stroke. They will receive appropriate treatment including thrombolysis, on site. Patients will be transferred to Craigavon Area or the Royal Victoria Hospital for acute stroke care and those who require continued rehabilitation will return to Daisy Hill Hospital Stroke/Rehab ward.
A Chief Operating Officer for Daisy Hill has been appointed and three senior medical consultants from Craigavon Hospital will be providing support to the Daisy Hill team. A temporary MRI scanner has been secured for the Daisy Hill site to reduce transfers for diagnostics and additional private ambulance cover will transport patients between Daisy Hill and Craigavon Area hospitals, if needed.
Patients should always phone 999 with suspected stroke symptoms.
Staff briefings
Chief Executive, Dr Maria O'Kane will continue to hold staff briefings as we progress through this change. All sessions are recorded and can be viewed here.
GP update
Daisy Hill Hospital update for GPs July 2023
Press releases
Question and answers
Trust Board
Documented question and answers raised by those with speaking rights at Trust Board meetings.
Council
Documented question and answers raised by members of Newry, Mourne and Down District Council.
Previous documents