Pre-natal Physiotherapy
We have developed some useful resources  including a video on pregnancy related pelvic girdle pain.
Exercise can help you manage back pain.
The main points to remember are to keep moving, change position regularly and work on strengthening those muscles.
We encourage an active pregnancy and reinforce the guidelines on general activity.
Physiotherapy Education
The Pelvic Health Physiotherapy Team run an antenatal Physiotherapy Education session via zoom every month to provide advice and guidance on how to achieve an active pregnancy.
If you are already active to a moderate level you should try to maintain your physical activity levels. You may find that you have to adapt or change certain activities as your pregnancy progresses.  Listen to your body and adapt as necessary.
What exactly is moderate physical activity?

As you can imagine more than gentle and less than hard! Anything that makes you breathe faster but still able to hold a conversation.
'Don't bump the bump' i.e. avoid contact sports or sports where there is a high risk of falls or injury.
It can be hard to keep motivated to make the change to regular physical activity but the benefits to mum and baby both now and into the future will be a great incentive.  Find an activity that is accessible, fun and convenient. Try to build it into your daily routine. Share the activity with friends or family.
There are endless possibilities to types of activity and it really needs to be something you enjoy to help you maintain the activity longer term.
Walking is a great way to start, it is free, accessible and everyone knows how to do it.
Gym or home workouts to include body weight exercises such as squats or lunges and added weight for resistance to strengthen the body are all safe.
Static bike, Stepper, Treadmill
Dancing
Walking
Online classes
Pilates
Swimming
Yoga
Running
Gym Strength/ resistance training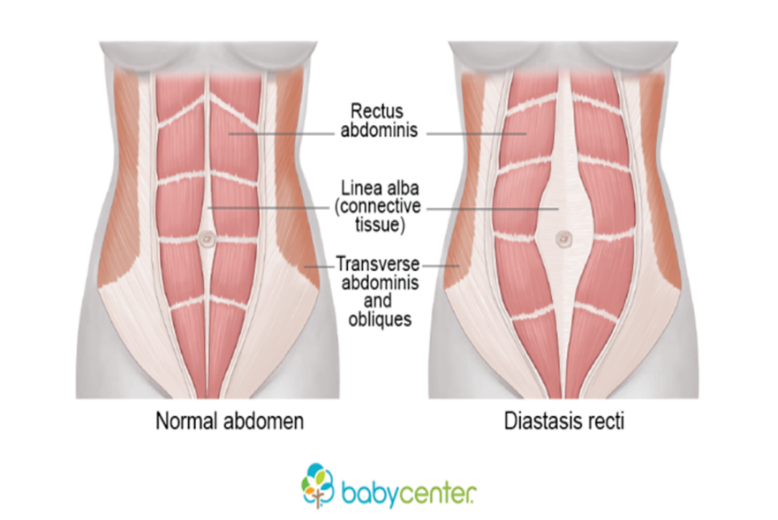 Specific Muscle groups will be impacted by pregnancy:
Core Muscles
Abdominals
Pelvic Floor
The abdominal muscles adapt and stretch as bump grows and as a result the gap between the two sides of your stomach muscle can widen and thin. For most women there will be a natural recovery postpartum within the first 3 months.  For some women it may take longer to recover and you may require ongoing physiotherapy postpartum to help with this.
The Pelvic Floor Muscles
support the pelvic organs
Assist in Urinary and faecal incontinence
Aid sexual performance
Stabilise connecting joints of the pelvis
These muscles are weakened during pregnancy and childbirth and it is essential that you exercise these muscles to keep them strong and maintain good bladder and bowel control.
We recommend the Squeezy App to help with your pelvic floor exercise programme.
If you are suffering from any problems with the pelvic floor a Pelvic Health Physiotherapist can help. You can get referred by your Consultant, GP, Midwife, Health Visitor or any health Professional or from the maternity ward when you are having your baby.