Cook it! and Healthy Eating

The Cook it! Team's key role is to train and support a network of facilitators to deliver evidence based nutrition and cooking skills programmes across community and HSC settings. This builds capacity within individuals and communities to make healthier choices, supporting their health and wellbeing and reducing health inequalities.
The team continues to adapt and work in an innovative way to support the health and wellbeing of our communities and staff. During the unprecedented times the Cook it! Team Dietitians along with the NI Public Health Dietitians Group have worked collaboratively to adapt our community nutrition programmes so that they can be delivered virtually.
Cook it! is a nutrition programme that has been developed for use in local communities in Northern Ireland. It can be used with a wide range of groups including young/single parents, young people leaving residential care, offenders during rehabilitation programmes, older people in sheltered accommodation and now people from certain black and minority ethnic (BME) groups.
The programme offers hands-on, practical experience of cooking and preparing food, as well as improving knowledge of healthy eating and food safety.

What is I Can Cook it? 
I Can Cook it! is an adapted version of Cook it ( 8 weeks) that has been specifically developed to support people with mild to moderate learning disabilities who want to enhance their cooking skills and to support healthier eating choices.
What is goodfood toolkit?   
The goodfood toolkit has been produced to help ensure that local people receive accurate and practical nutrition messages on how to follow a healthy balanced diet. Use of the toolkit and delivery of nutrition education sessions is flexible and can be run as a one off or as a series of up to 9 sessions. The toolkit can also be used as a nutrition reference document for community workers.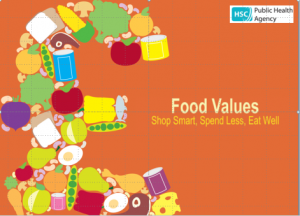 What is Food Values? 
Food Values is a 4 week food budgeting programme that aims to support people to make h
ealthier food choices within a limited budget. It therefore compliments other healthy eating initiatives such as the Cook it! Programme.
Healthy Eating Information is available from the following links:
Choose to live better:
Healthy Eating:
https://www.nhs.uk/live-well/eat-well/
http://www.publichealth.hscni.net/sites/default/files/Enjoy_Healthy_Eating_09_17_0.pdf
Recipes
I can Cook it!
I can Cook it! is a pictorial, easy read recipe book which shows how to cook healthy meals and snacks
I can Cook it! A3 pictorial recipe Booklet
101 Square Meals
Healthy Eating Made Easy 101 Square Meals is a Safefood recipe book containing easy recipes for every day life. Cook it! facilitators in the Southern Trust have already been trying out these tasty recipes with their groups. The cost of healthy eating is an important issue for us all. Eating a healthy, balanced diet is an important part of maintaining good health, and can help you feel your best. CLICK HERE FOR RECIPES
Recipe of the Month
What we eat every day has a significant impact on our health. Eating a healthy, balanced diet is an important part of maintaining good health.  The Cook it! Team Dietitians feature healthy recipes each month for Trust Staff to avail of and try out at home. These could be tried and tested healthier recipes from our community nutrition programmes, trusted websites or even recommended by staff. Feedback & comments to: cookit@southerntrust.hscni.net
Click here to view a Recipe of the Month
Click here to view easy videos on how to cook a number of recipes
New Nutritional Standards for Staff and Visitors in HSC settings.
Make the Healthier Choice the Easy Choice
The Nutritional Standards in Health and Social Care (HSC) aim to improve health and wellbeing as well as address overweight and obesity rates in Northern Ireland, by making the healthier choice the easy choice.
Healthier options will be on offer in all Trust catering facilities e.g. restaurants, canteens and coffee shops, and retail outlets and vending. You will find:
More fruit and vegetables on the menu
More higher fibre options e.g. baked potatoes, wholemeal rice, wholegrain bread and breakfast cereals
Less fried, processed foods e.g. bacon, ham, sausages, chips
Vegetarian options available daily
Fewer foods high in fat and sugar
Catering staff and Dietitians are working together to introduce these standards in all of the health and social care Trusts in Northern Ireland following the launch of the Nutritional Standards in March 2022.
Watch this short video to find out more

Nourish Newsletters:
Contact:
Cook it! Team
St Luke's Site, 71 Loughgall Road, Armagh, BT61 7NQ
Number 028 37 56 4544