Donating to the Trust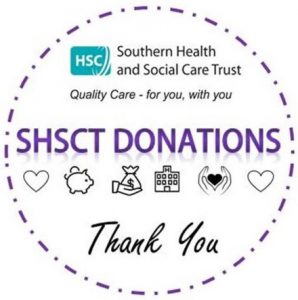 Every year the Southern Health and Social Care Trust receives many donations from members of the public. These donations vary in amounts from £10 to thousands of pounds. They come from individuals, community groups, families, patients, sports clubs, schools, businesses – from all walks of life and all areas of our Trust.
The generosity of our community makes it possible for the Trust to do things that otherwise would simply not be possible. For instance, in the last year we have used donations to buy equipment for hospital wards, support crafts at social education centres, and fund day trips and lunches for older people.
None of this would have been possible without your help and support.
When donations are given to the Trust, they are used in four main ways:
For patient/client/relative/visitor comfort and amenity
Staff appreciation, e.g. general hospitality, social events or celebrations
Staff education and training
Academic research and development
Donations can be made to one of four Charitable Funds that are held separately from public funds:
Acute Services Fund
Children and Young People's Services Fund
Older People and Primary Care Fund
Mental Health and Disability Fund
The kindness of the public is appreciated by our staff, and we are grateful for the continued generous support for all areas of the Trust.
For more information on how to make a donation click here
Gift Aid:
If you have made a donation to the Trust, have you considered Gift Aid? If you have made a personal donation, Gift Aid will enable the Trust to increase the value of the donation for each pound donated, at no extra cost to the donor.
To be eligible to participate, you must pay sufficient United Kingdom tax (income or Capital Gains) to cover the amount the Trust will reclaim on your donation.
Please click here to download a Gift Aid Declaration form and return to the SHSCT Finance Department at:
Income/Cashier Office
Daisy Hill Hospital
Newry
BT35 8DR
Endowments and Gifts (E&G) Committee:
The Committee's role is to ensure that appropriate arrangements are in place to oversee the administration, including banking arrangements, of E&G Funds, their investments and disbursement. The Trust's Endowments and Gifts Committee is chaired by Non Executive Director Geraldine Donaghy.