New Peer Support Volunteers to support Breastfeeding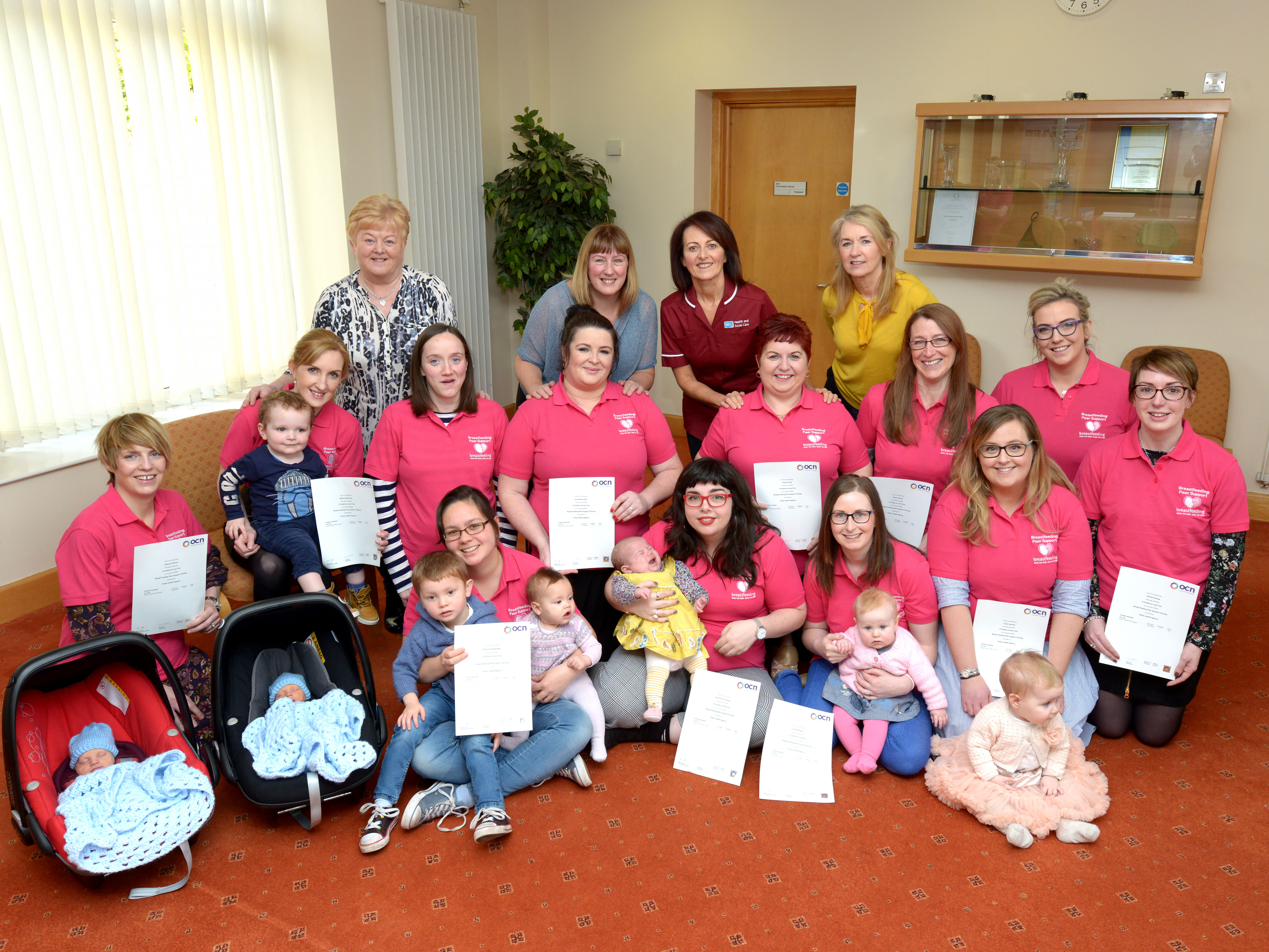 Breastfeeding Peer Support Volunteers in the Southern Trust have recently been recognised at an awards ceremony to celebrate their success in completing the Open College Network (OCN) Level 2 accredited training.
Breastfeeding Peer support volunteers are local mums who have breastfed their own children and who, with specialised training encourage and support other new mums. The Volunteers have been presented with polo shirts so they are easily recognisable to new mums.
New mums, with consent can be linked with a Peer mum as soon as leaving hospital and they can call them for support or advice over the phone or if necessary, they can organise to meet.
By sharing their own skills and experiences, Peer mums can help Breastfeeding mothers to overcome many problems with breastfeeding and encourage them to discuss any concerns they may have.
Welcoming and presenting OCN certificates to the new Breastfeeding Support Volunteers to the Trust, Siobhan Rooney, Non-Executive Director, said: "We are absolutely delighted to welcome this latest group of Peer Support Volunteers on board to promote breastfeeding and help us ensure that babies get the best start in life. As they are speaking from their own experience, new mums can really relate to our peer support volunteers and hopefully this will increase their confidence to start and continue breastfeeding and feel supported every step of the way."
Fiona Dorrian a Local Breastfeeding Peer Support Volunteer discusses her experience of being involved in the programme, "For many mums, we know getting started isn't easy and that's why support is crucial.
"We offer a friendly service where you can contact us and we will encourage and support your breastfeeding experience.  Creating that supportive environment is something that we all play an active part in building, including making mums feel more comfortable about feeding their baby when out about."
Another great support for Breastfeeding mums is the Trust's Breastfeeding Support Groups which meet regularly at various locations in the Trust area.  For information on your nearest group click here.The Trust's Breastfeeding Peer Support Volunteers was established in 2009 in partnership with the Public Health Agency and is always recruiting for new volunteers.  If you want further information speak with your midwife or health visitor or contact Gerardette McVeigh, Southern Trust Volunteer Co-Ordinator on 028 3831 1483.