Breastfeeding Support
Breastfeeding support groups aim to encourage and inspire you by other mums who are on the same journey, you realise you are not on our own, it's a safe place to try out feeding in public among likeminded supportive people, you will make new friends and contacts and there are supportive, knowledgeable health professionals and peer volunteers who are available to answer questions.
---
In the midst of this pandemic, breastmilk remains the safest and most protective method to feed all infants. To help to encourage and support you to breast feed or provide breastmilk for your baby during this challenging time of social distancing please find some useful resources and links which may help.
BUILDING A HAPPY BABY begins in pregnancy and over the next two years building a close and loving relationship  with your new born baby and responding to your baby's cues is good for baby's brain development. Our poster and leaflet provides lots of useful tips on how to achieve this during pregnancy and beyond.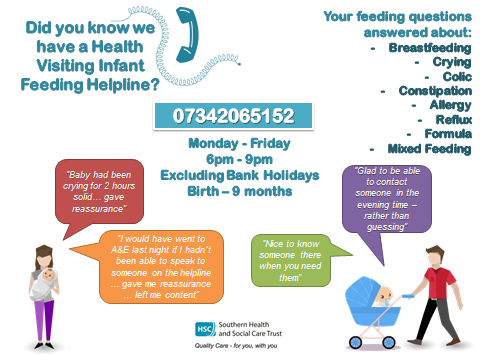 For support please see below:
---
Breastfeeding Peer Support Volunteers in the Trust
Read about our Breastfeeding Peer Support Volunteers here.
---
World Breastfeeding Week
We celebrated World Breastfeeding Week in 2018 and met with lots of mums and babies in Rushmere Shopping Centre and The Quays Shopping Centre, Newry.
Read more and view photographs taken at the events.
---