Volunteering
We are delighted to have reinstated the majority of the volunteer roles stood down due to the pandemic.
We welcome volunteers from all walks of life and if you have some time to spare and would like to become a Trust Volunteer please contact us for more details or apply using the link below.
We offer a host range of opportunities to suit all skills and aspirations.
We would like to hear from you if you are:
over 16
good at interacting with people
enjoy helping others
want to develop your own skills as an individual.
We ask that you commit to at least one year volunteering, so we can develop a long-lasting and meaningful role for you.  Volunteers can claim out of pocket travel expenses.
Our volunteers are thanked in many ways:
Awards and Certificates
Volunteer Recognition Event
Volunteer Service Manager/KeyWorker
---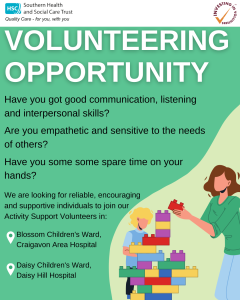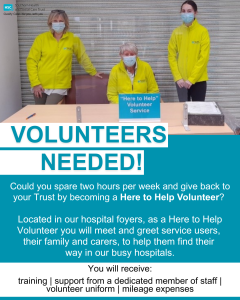 Volunteering is a way of becoming more involved in your local community and the hospital. Volunteers are placed across the Trust, participating in a variety of ways all contributing to improving the patient experience. They are an integral part of the Trust and are highly valued by staff, patients, service users and visitors. They have been greatly missed during the pandemic and we are delighted to be welcoming them back. There are lots of reasons why people choose to become a volunteer within the Southern Health & Social Care Trust such as to:
Give something back to the Trust after you or a family member has been treated here
Make new friends
Become an active citizen within your community
Develop new and useful skills and support your personal development with future job applications, UCAS forms, Duke of Edinburgh Awards, and records of achievements
Gaining valuable experience of working in a hospital or health and social care setting
If you would like to find out more information please contact our Volunteer Coordinators on the numbers below:
---
Please note: Volunteers do not carry out (or shadow) clinical work or short-term work experience placements. For these placements contact chloe.clarke@southerntrust.hscni.net
---
---
Contacts