Trust provides further update on medical staffing at Daisy Hill Hospital
2nd June 2023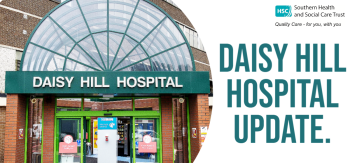 The Southern Health and Social Care Trust has provided a further update on medical staffing issues at Daisy Hill Hospital.
Due to insufficient senior consultant cover at Daisy Hill and to immediately protect patient safety, all acute stroke patients are now being diverted to Craigavon Area Hospital.
Following the May Trust Board meeting where the major issues in recruitment and retention of medical staff, particularly at Daisy Hill Hospital were outlined, the Senior Leadership Team has met with other Trusts, Department of Health, Northern Ireland Ambulance Service and the Northern Ireland Medical and Dental Training Agency.
Southern Trust Chief Executive Dr Maria O'Kane said: "We greatly welcome the continued support of regional colleagues during this difficult time and are working with other Trusts to identity potential medical staffing support.
"We now have a regionally agreed interim plan, developed with the support of our medical team which we have shared with all staff and have appointed a Chief Operating Officer for the Daisy Hill site. Ensuring patient safety, supporting our staff's psychological safety, maintaining a Type 1 24/7 Emergency Department at Daisy Hill and providing alternatives to hospital admission close to home remain our absolute priorities. Our initial focus aims to stabilise staffing for the summer months in anticipation of a more permanent solution.
"We are ambitious for Daisy Hill and continue to work at pace to progress new models of care which aim to prevent and reduce inpatient medical admissions and develop more same day emergency care options.
"Understandably some staff at Daisy Hill and also Craigavon are anxious about the anticipated changes to our acute hospital network. A Trustwide approach, involving staff from both sites is integral to addressing our current issues and everyone's contribution is greatly welcomed.
"Whilst there may be changes to the way we all work, there is a job and work for everyone and indeed many opportunities through these new, innovative ways of working.
"Paediatrics, Obstetrics and Gynaecology, Mental Health and Disability services continue to operate as usual and we continue to develop our plans to build on elective surgical activity.
"As always we welcome all feedback and the support of our local community and political partners as we progress our plans to stabilise services and keep patients safe."