Daisy Hill Hospital Medical Staffing Update
8th June 2023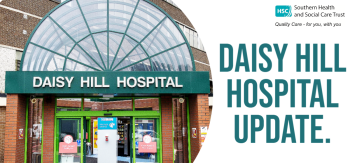 Updating on the ongoing medical staffing issues at Daisy Hill Hospital, Southern Trust Chief Executive, Dr Maria O'Kane said:
"We would sincerely like to thank all colleagues who have been sharing suggestions on the proposals presented last week to keep medical inpatients safe in light of our medical staffing issues at Daisy Hill Hospital.
"This is a very difficult time for staff but we are encouraged by their enthusiasm to work with us to modernise and improve services for patients.
"From late July we will have limited substantive medical consultants working at Daisy Hill and this could potentially impact on the number of other doctors we are allocated in August.
"Our initial focus is to immediately stabilise staffing for the summer months in anticipation of a more permanent solution.
"Since last week we have continued to develop and refine our plans as we have received more data and considered feedback from our own Trust staff and regional health and social care colleagues.
"Through these plans we aim to prevent and reduce inpatient medical admissions by developing more same day emergency care and enhancing community services to better ensure that people who don't need to be in hospital can be appropriately supported at home.
"We will offer alternatives to inpatient medical admissions.
"We have asked for regional support with senior medical cover to stabilise staffing at Daisy Hill as an interim contingency measure, to mitigate immediate patient safety concerns and maintain onsite acute medical service provision. This would also help us to meet education requirements to support junior doctors.
"We have also requested a project to address the ongoing workforce challenges faced by all local hospitals in Northern Ireland and secure their future as an important part of the regional acute hospital network."
The Chief Executive has advised on all staff briefings and communication that no jobs will be lost but there may be changes to the way we all work and indeed many opportunities through these new, innovative ways of working.