Physiotherapy
Due to the COVID-19 pandemic our service has had to change. We are still here to help and support you. We are carrying out telephone reviews and will carry out urgent face to face appointments as necessary.
If your child has respiratory needs or urgent equipment reviews it may be necessary to carry out a home visit. This will be assessed on an individual basis in line with current guidance.

If your child is known to a physiotherapist and you have any queries please contact them on the number you have been provided with.
If you don't have a contact telephone number and you would like to speak to a physiotherapist please ring 028 37412140, give your child's name, date of birth and your name and a therapist will return your call.
If you are having problems with splints please contact the appliance service on 028 95049305.
Exercise
Exercise is good for everyones general health. It's good for self esteem and mental well being. Moving the body improves strength stability and mobility.
Benefits
Improves strength which leads to better gross motor skills and independence.
Improves sleep, which is often a problem for those with physical difficulties.
Reduces constipation – as the body moves the muscles in the stomach contract and help move its contents along, relieves trapped wind.
Weight bearing activities improve bone density and reduce the risk of fracture.
Exercise can help maintain or increase muscle length through active stretch, maintaining the range of movement in the joint, leading to improved function and independence in everyday tasks.
We all have a different level that we start from with exercise, so it may be that your child gets a good workout just by moving their head or their arms and others will benefit from moving their whole body.
A physiotherapist will be able to guide you and suggest activities suitable to your child's level of ability.
Click HERE to download an Exercise Diary and see if you can get 60 minutes of activity every day.
Managing your child's posture at home
Why is this so important?
Children who have difficulty in moving or adjusting their position are at risk of developing long term changes to their body shape or even developing pressure areas.
Range of movement in the joints and length of muscles may all become altered and may cause changes in body shape if posture is not maintained. This may result in change of shape in the spine and hip dislocation.
This can then lead onto other difficulties including eating, drinking, digestion/constipation, pain, personal care and breathing difficulties.
Aim to work towards a symmetrical posture in lying, standing and sitting
Don't let hips and knees swing to one side
Avoid legs crossing over
Keep pelvis level and don't let it rotate
Encourage eyes forward and head level
If your child has been provided with specialist supportive equipment please try to use this to maintain their posture. If you need any further support with this please contact your child's physiotherapist.
Useful links
It's important that children stay active, even during lockdown. These links provide ideas for a wide range of fun activities which can easily  be done at home/
Many of them are only a few minutes and easy to carry out.
Also daily live sessions on Bumble Bee Physio Facebook page which are fun to join in.
Under the Our Home tab you will find videos and exercises for all levels of ability including wheelchair users and more active children
W10 video clips that get younger children up and dancing with CBeebies presenters
Range of simple activities for two- to four-year-olds with restricted mobility options. This is a Public Health England pilot project linked to Change4Life.
Ideas for activities including 10-minute' shake ups' and children's indoor activities using Disney characters.
If you need help with using your standing frame there are a number of videos on the Leckey Facebook page you may find useful.
Joe Wicks has daily work out sessions, including a dress up Friday Fun session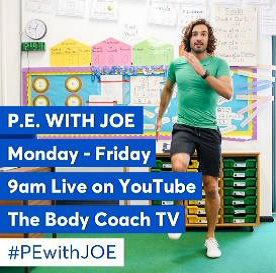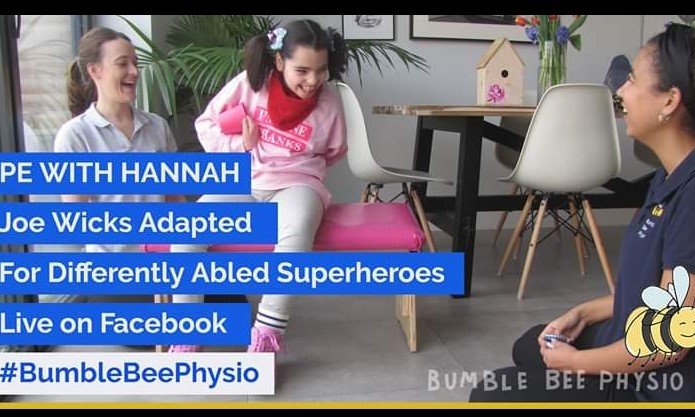 Cosmic kids yoga
Cosmic kids have quite a few different child friendly yoga and mindfulness programmes available free on YouTube. The programmes are based around a story, with the instructor acting out the story through yoga moves e.g.:
For the more energetic children here are some dance links
Oti Mabusi is a professional dancer who is teaching children's dance routines online e.g.:
Kidz Bop dance along
Kidz Bop are a group of children performing dance routines to pop music e.g.: