South Armagh Rural Project to benefit from £500K of National Lottery funding
10th November 2020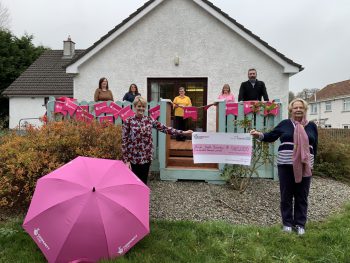 The Rural Health Partnership based in the WALD Centre in Cullyhanna, have confirmed their application to The National Lottery Community Fund has been successful.
Their proposal, focusing on the emotional and mental wellbeing of the community across South Armagh has been awarded £500,000.
Speaking at the virtual launch of the project, Teresa Nugent, project manager, said: "The Rural Health Partnership was established twenty years ago to support the people of South Armagh around mental health issues. This award will enable the project to expand its provision and to focus on specifically supporting farming families, young families and settled travellers across South Armagh. Covid has had a terrible impact on both our physical and mental health and with the potential impact of Brexit only weeks away we must do all we can to support each other."
Also speaking at the event, Conor Murphy Minister for Finance and MLA for Newry and Armagh praised the work of the Partnership and their commitment to strong community activism.
"The National Lottery Community Fund has today confirmed their largest ever award for a project in South Armagh. This is a clear demonstration of their confidence in the work of the RHP. This area has some of the most deprived rural wards across the region and it is vitally important that local agencies and local people from these communities are supported in identifying and addressing needs. Such work will be vital into the future."
The investment will allow the project to recruit additional outreach workers and to develop a network of peer volunteers across the South Armagh district. A key focus will be on supporting local people to become involved.
Sandra McNamee, Interim Chair of The National Lottery Community Fund added: "We are delighted to support the work of the RHP. We want to fund projects that are developed by people, for people and with people. RHP are working widely with their community to identify what they need and how they can be supported. We are happy to provide financial support through this award. National Lottery players can be proud to know that the money they raise continues to support communities across Northern Ireland."
Many representatives from community and voluntary networks were also present at the launch along with Council officials and locally elected councillors. At the core of the keynote speeches was the importance of partnership working.
Barney McNeany, Director of Mental Health and Disability Services in the Southern Health and Social Care Trust, congratulated the RHP and confirmed that the Trust would continue to actively support the project.
"Partnership working is crucial in achieving the best outcomes for our communities. Covid has had a significant impact on people's mental health. We must all work together to build strong partnerships that can deliver the appropriate supports and services for people when they most need them."