40 years and counting
4th August 2023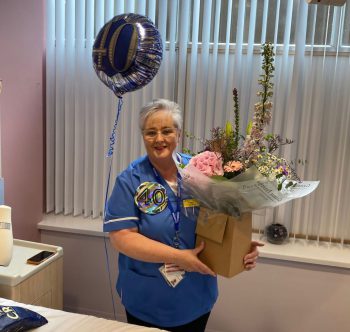 A midwife who has celebrated 40 years of service in the Southern Health and Social Care Trust has no plans to stop doing the job she loves.
Phil Fletcher has dedicated more than 45 years of service to the NHS, and has spent the last 40 of those supporting, caring and advocating for women to ensure that they the highest standards of safe midwifery care in Daisy Hill Hospital.
Phil, who is one of the longest serving midwives in the Trust, started working in the NHS in February 1978 and moved to the Southern Trust on 3 August 1983.
After more than four decades, Phil has since lost count of the number of women she has guided through their pregnancies or the number of babies she has had the privilege to see safety birthed, but she is not saying goodbye to the profession just yet.
"I am very lucky to still love my job, the people I work with and the women I see every day."
Over the years, Phil has witnessed great changes to the way midwifery services have developed.
Her colleagues in Midwifery and Maternity services held a celebration event in Daisy Hill on 3 August to mark this milestone moment.