Stroke Patients are feeling the benefits of a 6 day support service at home
1st July 2020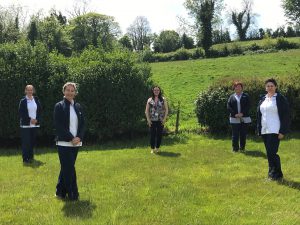 One year on and our Community Stroke Team continue to provide a 6 day Early Supported Discharge service (ESD).
When an appropriate referral is received and a stroke patient is discharged safely, the ESD service aims to see patients in their own home within 24 hours to continue therapy so they can achieve the best possible outcomes after stroke.
Brian Beattie, Director of Older People and Primary Care said: "This enhanced service is part of the transformation plan to improve and develop stroke services across Northern Ireland and the emphasis is on early intervention, person centred rehabilitation goals and self-management.
"While the COVID-19 pandemic has presented the team with new challenges, they have introduced alternative ways of working to ensure that patients who have experienced a stroke continue to receive the input they require. This has included increased communication by telephone, the use of Information Technology devices and the introduction of new technology to enable virtual face to face consultations rehabilitation. Other solutions such as therapy sessions in gardens, weather permitting and facilitating reviews through a window have been helpful for clients and staff.
"Over recent months, patients and families have had to deal with additional concerns and visiting restrictions due to COVID-19.  I would like to thank our ESD Team for the commitment they have shown in these difficult times to continue to supporting our stroke patients and to help them to return to being confident and independent as possible again in their home environment. We are immensely proud of the service which continues to deliver care for patients who are recovering from a stroke."
The team really appreciate the kindness of the local community who donated PPE and sent home baked scones, personal care products and even some hand-made jewellery to help keep their spirits up.
If you would like more information on the Early Discharge Service provided by the Community Stroke Team please contact Paula Ford-Hutchinson, Stroke Lead, Community Services on Email: paula.fordhutchinson@southerntrust.hscni.net