Acute Care at Home Contributing to Major Research
27th April 2021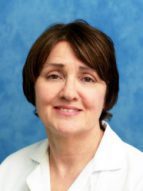 Our Acute Care at Home service has contributed to a major study led by Oxford University which has found that caring for older people at home can be just as good – or even better than – hospital care.
Lead Geriatric Consultant for Acute Care at Home Dr Pat McCaffrey said: "This is the largest study to date on Hospital at Home care, with the results indicating that that hospital level care at home is just as beneficial for a selected group of older people as hospital care. This type of care provides an additional service that ultimately relieves pressure on hospital beds and avoids unnecessary stress and disruption for older people and their loved ones."
The study also reported higher levels of patient satisfaction with Hospital at Home care. In particular, Hospital at Home scored more highly regarding the length of time waiting for care to start, contacting staff, being involved in decisions and discussing further health or social care services.
The Acute Care at Home team are delighted to contribute to the growing evidence base for hospital at home as an alternative to inpatient care and would like to thank Research Nurse Kate Douglas with all of her assistance throughout.
Read here