Bearcation for Braveheart!
30th July 2021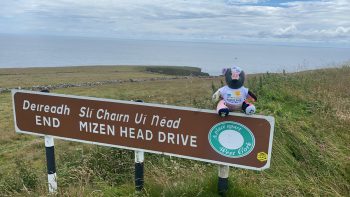 Many of us have or will be heading away for a staycation over the summer months. While we may only get a week away, Braveheart, the HSC NI Foster Care Bear, will be going on his holidays with foster families from the Armagh, Dungannon, Craigavon, Banbridge and Newry and Mourne area over the summer. Braveheart is just back from his first trip to Cork.
Braveheart has a very special relationship with children who live in foster care as he was made from some clothes that were no longer needed in foster homes.
"We are delighted that many of our foster families are getting away for a well-earned break and hope that Braveheart will create some positive and fun memories for our children in foster care," says Melanie Coffey, senior manager, HSC NI Foster Care. "Our foster carers continue to provide safe and nurturing homes for children and young people and we are very thankful to them for their dedication. We hope to share photos of Braveheart's staycations on our social media over the next few weeks," she continues.
As a HSC foster carer you are never on your own. HSC NI Foster Care provides financial support, a comprehensive training programme, 24 hour social work support and more. We welcome new foster carers regardless of race, religion, language, culture, gender, disability, age or sexual orientation.
To find out how you could give a child a brighter future please call us on 0800 0720 137 or visit https://adoptionandfostercare.hscni.net/  
Search 'HSC NI Foster Care' on Facebook and Twitter