Breast Screening Services will resume on 27 July
15th July 2020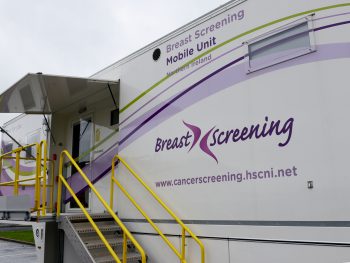 As of the 27 July, Breast Screening Services in the Southern Trust will resume following their suspension during the Covid-19 pandemic.
Breast Screening services are planning to restart sending appointment letters to women between the ages of 50-70 for Breast Screening at the specialised digital mobile units currently situated at Lurgan Hospital and Dromalane House, Newry.
To help make use of all available appointments, women are advised to contact the Breast Screening Unit Tel: 028 3756 0820 to confirm if they are able to attend, when they receive their letter.
As a next step and agreed regionally by the Public Health Agency, the Trust will wait until the current Breast Screening waiting lists have reduced until women over 70 years will be offered the option to self refer for Breast Screening services.
Dr Linda Johnston, Southern Trust Director of Breast Screening said: "We look forward to resuming our Breast Screening Service which unfortunately had to be paused in response to the impact of Covid-19.
The safety of our patients and staff will continue to be our priority as the screening programmes restart and expand.  We are taking all necessary precautions so that we can safely offer this life saving screening service to as many patients as possible through early detection of breast cancer.
Whilst waiting for appointment letters if anyone is worried about changes in their breasts or symptoms that are causing concern they should contact their GP without delay."
When attending your appointment
·         Please wear a face covering to attend your appointment.
·         Patients will be expected to comply with existing social distancing and hand hygiene measures.
·         Patients are advised to attend alone and as close to appointment time as possible.
·         Clinical staff will be wearing Personal Protective Equipment (PPE) such as face masks.
·         Appointments may take longer than usual.
Full details of SHSCT Breast Screening and more information is available at https://bit.ly/2Cfm9XV
If you have any queries about your appointment please contact the Southern Trust Breast Screening Unit on Tel: 028 3756 0820.