Breastfeeding peer support celebration event
25th November 2022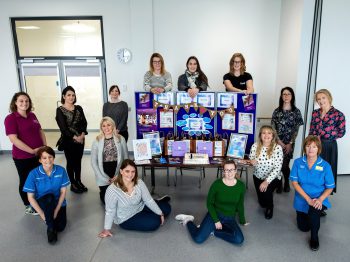 A celebration event was held this month to thank our volunteers who work as breastfeeding peer support workers.
The celebration, at South Lake Leisure Centre in Craigavon, was for existing volunteers supporting breastfeeding mothers over the last year.
Breastfeeding peer support workers are local mums who have breastfed their own children and who, with specialised training, encourage and support other new mothers.
New mums, with consent, can be linked with a Peer mum as soon as leaving hospital and they can call them for support or advice over the phone or if necessary, they can organise to meet.
By sharing their own skills and experiences, peer mums can help breastfeeding mothers to overcome many problems with breastfeeding and encourage them to discuss any concerns they may have. Breastfeeding peer support alongside health professionals and support groups is evidenced as the effective way to support mothers to continue breastfeeding.
Ruth McGowan and Michelle O'Hagan Community and Maternity Infant Feeding Leads explained:
"This is the second time since the pandemic that we have been able to come together and celebrate our peer support volunteers and the valuable work they do.
"We were absolutely delighted to welcome everyone to promote breastfeeding and help us ensure that babies get the best start in life.
"We currently have 15 volunteers and are keen to train another group in the New Year."
Among those in attending the event were existing and newly trained volunteers, peer mentors who are health visitors and midwives, our link worker Alicia Lappin, as well as volunteer coordinators Karen McCabe and Aine Mulholland.
See www.breastfedbabies.org for additional information on breastfeeding and the Public Health Agency 'Breastfeeding Welcome Here' scheme, which encourages businesses and public facilities to support and welcome breastfeeding families.