Carols in the Courtyard
15th December 2022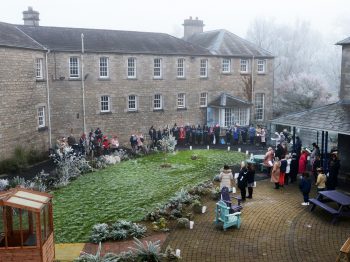 The Southern Trust's Community Addictions Team and SoHope performed 'Carols in the Courtyard' for staff and service users recently.
'SoHope' (Southern Hope) is a group of staff and service users who work together to improve addiction services across the Southern Trust area.
'Carols in the Courtyard' was the latest venture from the team following the successful 'Sow and Grow' project which led the transformation of the courtyard in St Luke's hospital, Armagh last year.
They brought in gardening and woodwork expertise from the ARC and TCV ( The Conservation Volunteers in partnership with the ABC council), to create a beautiful new look space, including an allotment, lawn and seating which offers a calming outdoor area for staff, service users and carers to enjoy.
"'Carols in the Courtyard' was another opportunity to showcase our beautiful outdoor space here in St Luke's with a feel-good activity that everyone could enjoy," said John McEntee, Interim Assistant Director of Mental Health Services.
"Whatever your age and stage in life, you can enjoy the benefits of singing and music – it helps lift your mood, there's an increased social connection singing within a group and is a great stress reliever. It was a wonderful event to get everyone in the mood for Christmas."
The event also featured carol singing from the Trust's Learning Disability Drama Group.