Catherine's swaps 60th birthday gifts for donations
4th March 2020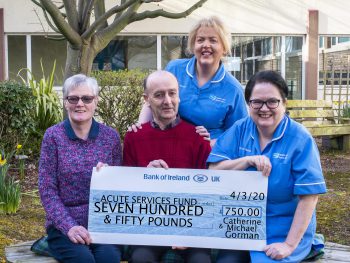 Catherine Gorman from Keady, has made a generous donation to the Southern Trust's Acute Services Fund after declining presents at her 60th birthday celebration in favour of donations instead.
Thanks to everyone who attended her birthday and donated, she was able to hand over a cheque for £750 to the Nurses in the Mandeville Unit this week.
Catherine is pictured with her husband Michael, handing over the cheque to S/N Tanya Maginn. Also pictured is S/N Therese Brooks.