Celebrating World Quality in the Southern Trust
12th November 2019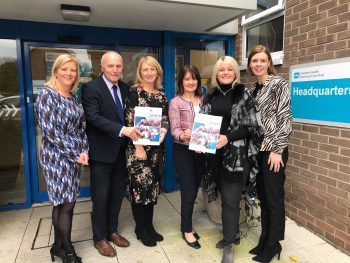 To celebrate 'World Quality Day' on 14 November the Southern Trust has launched its Annual Quality Report for 2018/19 and will be hosting two quality events.
World Quality Day is an annual celebration of the world's commitment to continuous improvement systems with a focus on the strategic importance of quality and continuous improvement.Aldrina Magwood, Director of Performance and Reform and Chair of the Trust Quality Improvement Steering Group explains: "World Quality Day gives us the opportunity to promote the importance of continually improving the safety and quality of services across health and social care.  As an organisation we take pride in the quality of services we deliver and I'd like to reinforce that quality is the foundation of the Southern Trust and we acknowledge the achievements of staff right across our organisation who are committed to improving services and the experience of patients and clients every day of the year.
"Our Annual Quality Report highlights the outstanding work carried out by our staff, not only to deliver high quality services but to continually improve them. None of these achievements would be possible without the invaluable support of our staff, volunteers, stakeholders, patients and clients.
"We are all aware of the need for improvement throughout health and social services to meet the changing needs of our population. This report clearly demonstrates our commitment to this transformation agenda in order to improve quality, outcomes and the lives of local people into the future."
"Despite considerable challenges we are faced with there is no doubt that our services and staff are under extreme pressure but over time we are determined to make it better for those who use our services and those who work in the Trust, duty of quality is a key priority for our Senior Management Team.
"This week we are excited to host two Quality events.  On World Quality Day a number of operational staff will be receiving specialist dementia and autism training to gain an insight into the challenges faced by our service users.
"The Virtual Autism programme is an innovative and immersive training experience designed to give participants an experience of sensory overload.  The Virtual Dementia Tour will give participants the opportunity to walk in the world of a service user with dementia, identifying opportunity to improve patient care and experience
"On Friday 15 November we will host our 6th Annual Quality Improvement Event – 'Connecting People: Making Change'.  This event showcases improvement efforts underway across both acute and community services during the past year and highlights the importance of delivering high quality care and the need to strive for continuous improvement.  Staff will experience virtual learning where they will get a sense of what it may be like to have dementia or autism and how this may influence our interactions with patients/service users in the future, in addition to a range of simulation based learning opportunities.  For more information email: Quality.Improvement@southerntrust.hscni.net"
View the Annual Quality Report 2018/2019 HERE
For more information on World Quality Day go to www.quality.org/world-quality-day-2019
#WQD19