Chaplaincy Services during Covid-19
8th June 2020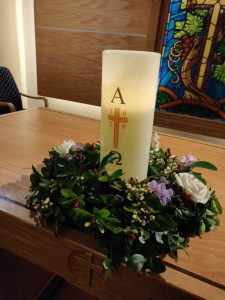 The onset of Covid-19 has made us all stop and reflect on how we continue to fulfil our roles and responsibilities in a Pandemic. Chaplains normally have the privilege of being on the wards visiting patients, listening to their stories, sharing time with them in their journey through life. In normal circumstances they would be able to support the patients' family in stressful times and working alongside clinical colleagues to bring holistic care to the patients. This all changed with the arrival of Covid-19 as Chaplains were no longer able to routinely visit the wards and minister to patients, relatives and staff.
As a team of Chaplains, they had to change the way they worked, in response to the current demands, to support patients, relatives and staff and maintain a necessary service. The Chaplaincy team had to rethink the way they work, and began by providing resources for patients on the wards, prayers and readings that they could use themselves. They also developed packs of multi faith resources that staff could use on the wards with patients at end of life.
Alongside resources for patients they produced literature and prayers for staff to use at the beginning and end of shift.  This material was designed to reassure staff during this challenging time. A temporary Quiet Room was set up in the Village area at Craigavon Area Hospital where staff could drop in anytime and enjoy some space to reflect and pray. This room was stocked with helpful and relevant literature.  The Chaplaincy team organised a drop in staff prayer time each morning, Monday to Friday in the temporary Quiet Room.  The church at Daisy Hill Hospital remained in its current location for staff to use.
The team set up a 7 day a week Telephone Support Line which was offered to patients, families and staff.  They are available 24/7 for emergency pastoral care as normal and are able to assist as they have received the appropriate PPE training.
Chaplains continue to be available to the hospital community and they can be contacted every day between 10am-12noon and 2pm-4pm.
For Craigavon Area Hospital contact Switchboard on Tel:  028 3833 4444
For Daisy Hill Hospital contact Switchboard on Tel:  028 3083 5000