Cheque donation at the Mandeville Unit
2nd November 2021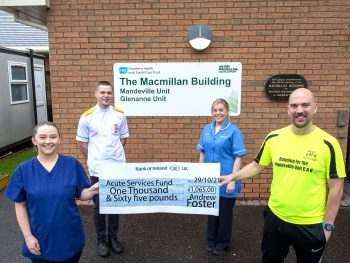 Over £1000 has been fundraised by marathon runner and Lurgan man Andrew Foster.
Andrew Foster took on the 26.2 mile course in the Belfast Marathon in October and in doing so has been able to donate £1065 to the Southern Trust Acute Services Fund.
Andrew visited the Mandeville Unit last week, where his father is a current patient and has had a few other family members pass through there very recently, to present the cheque to the team.
He is pictured alongside Victoria Lyness (Staff Nurse), Claire O'Connor (Staff Nurse) and Caleb Haughey (Student Nurse).