Comfort packs for cancer patients
26th May 2021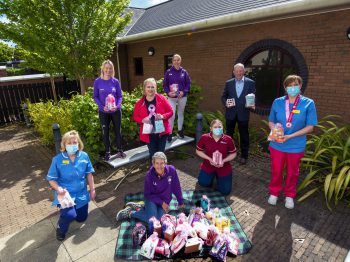 Over 600 comfort packs have been donated for breast cancer patients attending the Glenanne Unit at Craigavon Area Hospital.
Following her diagnosis last July, Estelle Allen was given a gift pack donated by another past patient by her designated nurse Eimer McGeown.
Despite dealing with her diagnosis, Estelle thought that this was a lovely gesture and approached her run club 'Craigavon Lakers' to see if they could arrange a fundraising event to do something similar and the 'Jog on Cancer' run was born.
Estelle from Waringstown, said: "We raised over £3200 which was divided between Knitted Knockers and the purchase of products to gift to the breast cancer unit. I approached Gordon's Chemist and when I told Mr Robert Gordon about my plans, they kindly donated perfumes for all the packs that I bought.
"My original target was 200 packs, so far I have delivered 407 and I am delighted that thanks to the generosity of friends, family and local schools, Waringstown PS, Lurgan JHS, Craigavon SHS and St Ronan's PS, I estimate that we will be able to donate another 200-300."
Estelle and all those that have fundraised hope that the gifts will be a nice treat for those who attend the cancer unit.
Photograph:
Standing (L-R) Natalie Bowbanks (Craigavon Lakers), Joanne Harris (Knitted Knockers Founder), Jaclyn Murray (Craigavon Lakers),Robert Gordon (Gordon's Chemist), Eimer McGeown (Breast Care Nurse Specialist)
Kneeling/Seated (L-R): Helen Fee (Staff Nurse), Estelle Allen, Katie Geddis (Breast Care Nurse Specialist).