Community Dietitians held in high Esteem
7th July 2020
Well done to Southern Health and Social Care Trust Community Dietitians Donna Holland and Cherith Hall who have both appeared on the Esteem award gallery for their contribution during COVID-19.
The Advancing Healthcare Esteem nominees are being recognised for their outstanding work and highlights the contribution of Allied Health Professionals during the COVID-19 crisis, and their work will be celebrated as part of the main Advancing Healthcare Awards ceremony later this year.
Both Donna and Cherith were nominated by their team leads.
"Shortly into the COVID-19 pandemic, Donna was advised to shield at home. However she was willing to work from home, so once remote access was organised Donna was up and running!" said Irene Thompson, Team Lead Dietitian.
"Within a few days an urgent piece of work was assigned to her.  Donna swiftly got into action and was heavily involved in developing the Regional Nutrition Guidance for COVID-19 Care Home Residents across Northern Ireland.  This was an essential piece of work as part of the PHA's capacity building toolkit for Care Home Staff integrating the expertise of dietitians. This guidance support the Independent Sector treat and help meet the nutritional needs of their patients with or suspected of suffering with COVID-19 as an integral element of the recovery model.  This element was encompassed in a suite of expert AHP advices on post COVID-19 recovery and rehab strategies.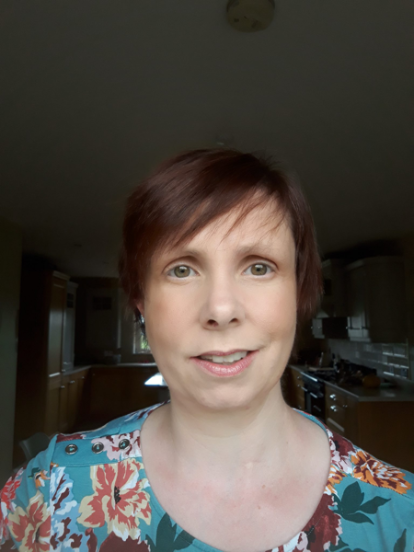 "Donna also took on numerous other pieces of work, allowing her colleagues to focus their time and attention on clinical contacts.  Donna's willingness to work whilst shielding has greatly supported the Nutrition and Dietetic Service and has been immensely appreciated," said Donna.
Emma Givan, Team Lead Dietitian, said that Cherith is always willing to go the extra mile and when the pandemic hit, she continued to do just that.
"She was re-deployed into the acute Daisy Hill hospital as well as continuing her virtual community caseload. She assisted in establishing critically ill patients on intravenous nutrition, embracing the change and challenges of PPE.
"In addition, more recently she also facilitated her first ECHO training video conference on the Regional Nutritional Guidelines for Nursing Homes to care home managers. Cherith is a credit to her profession and the Trust," said Emma.
"Cherith and Donna have made very essential contributions to post COVID-19 critical and rehabilitation stages of patients care at both a local and regional level to support successful recovery. They are very worthy recipients of the National Advancing Healthcare Esteem Award for their, dedication, compassion, professionalism and innovative working style during the COVID-19 period. Well done you make us very proud," said Carmel Harney, Assistant Director, AHP Governance, WFD and Training.