Companions introduced to help dementia patients
20th May 2021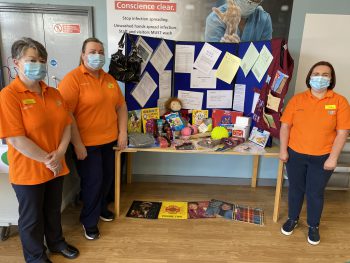 For people living with Dementia, admission to hospital can often leave the person feeling more vulnerable and their families worried.
In the Southern Health and Social Care Trust we have four Dementia Companions as part of our ongoing efforts to offer additional support for this group of patients.
As part of Dementia Action Week (17-23 May), we want to highlight the amazing work that they do and assure those with Dementia who may find themselves in hospital, that our Companions are here to provide ongoing compassionate reassurance to them and their families.
Mairead McGahan, Service Improvement Lead for Dementia said that for those living with dementia, admittance to hospital can mean many new faces, a whole new routine and can often leave the person feeling more vulnerable and their families worried.
"The Trust Dementia Companions work in our hospitals and assist patients, encouraging independence as appropriate, supporting them with their rehabilitation programme, and always respecting their privacy and dignity. I am excited to see the difference our Dementia Companions can make within our hospitals.
"They work closely with our nursing staff and will assist patients with the use of rummage boxes, which help them to interact, communicate and reminisce.
"They spend time befriending and chatting with patients as well as supporting and assisting them and their families during their hospital stay.
"They encourage and assist patients to eat meals and get enough fluids, organize their personal items and keep a clutter free bedside.
Patsy-Anne Hyde, Ward Manager Lurgan Hospital, said that the Dementia Companions have been "a great asset to the Wards".
"They take time to get to know the patients and use resources such as memory folders which staff can also refer to which has been invaluable," said Patsy-Anne while Megan Hetherington, Clinical Sister, Loane House, said that it has "been lovely to see the way the Dementia Companion interacts with patients, taking her time to support them'.