COVID-19 booster roll-out in care homes underway
15th October 2021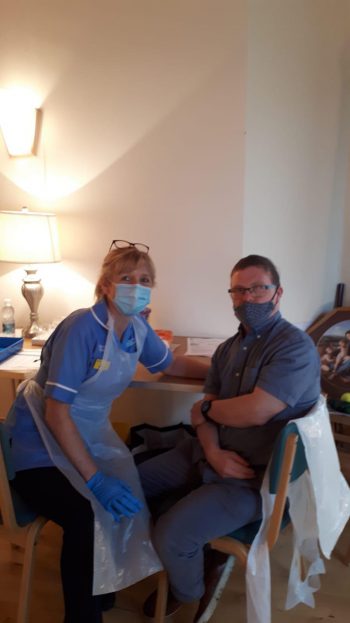 The Southern Trust's vaccination teams have been out and about bringing the COVID-19 booster jabs to nursing and residential home residents and staff.
Over the next week or two, the team hopes to distribute the booster vaccine to all our care homes within the Southern Trust area.
The booster jabs are part of an autumn and winter plan for managing Covid.
Caroline Rice, Lead Vaccinator for the Booster Programme in Care Homes, praised the staff who have worked tirelessly in following up with those residents and staff who received their second dose jabs at the beginning of last year.
"We are delighted to see the booster programme getting underway for residents in care homes for older people, offering longer lasting protection against severe COVID-19 illness. "The COVID-19 vaccination programme has been hugely successful in protecting people against hospitalisation and death, and the main aim of the booster programme is to prolong that protection and reduce serious disease as we head towards the colder months.
"The programme also provides an opportunity for care home staff or residents to avail of a first or second dose of the COVID-19 vaccine if they are not fully vaccinated already.
"We have a great team of vaccinators and we cannot forget all those working the in the background – admin, pharmacy, transport – it really is a team effort to be able to successfully deliver this booster programme across the Southern Trust area."
Above Image: Vaccinator Claire Connolly met up with her very good friend Donal today in Mourne Grange . Claire has known Donal for many years , but last seen him in 2019 at a family BBQ.  Donal happily received his booster Covid vaccine, and was able to catch up and reminisce with Claire  when the vaccination Team visited Mourne Grange .
---