Daisy Hill Hospital announced as Elective Overnight Stay Centre
19th October 2022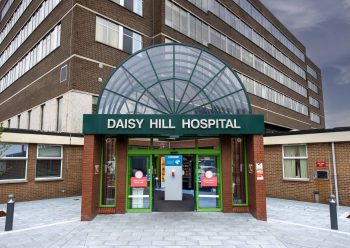 The Southern Health and Social Care Trust has welcomed the Health Minister's announcement that Daisy Hill Hospital will be a regional Elective Centre for patients requiring to stay overnight for planned surgeries.
Trust Chief Executive, Dr Maria O'Kane said: "Daisy Hill is an essential part of the Southern Trust hospital network, along with Craigavon Area, South Tyrone and Lurgan, serving our entire population from South Down to Mid Ulster.
"We are very proud of the high quality of services provided by our very dedicated staff at Daisy Hill. In addition to the wide range of specialties already provided from the hospital, we now look forward to enhancing its elective surgical capacity.
"This is an exciting opportunity to develop an essential regional service benefiting the growing numbers of patients on local and regional waiting lists.
"I would like to pay tribute to all of our staff who have been working tirelessly to sustain services during a very difficult few years. This announcement is a very welcome boost to Daisy Hill and the entire Southern Trust as we carefully rebuild more services and recover from the pandemic.
"I also acknowledge the support of our Community Forum, who have worked with Trust colleagues as part of the Daisy Hill Pathfinder Group, to secure and improve services in the interests of local people.
"Our surgical team will now be engaging with colleagues regionally to develop these plans, to achieve the best possible outcomes for patients living across the Southern area and beyond."
Read Minister's statement in full:
Minister announces surgery centre plan for Daisy Hill Hospital | Department of Health (health-ni.gov.uk)