Daisy Hill Set for Major Electrical Upgrade
12th January 2023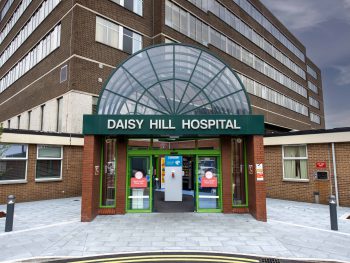 Daisy Hill Hospital is set for a major upgrade of its low voltage electrical infrastructure with the approval of £9,152,000 from the Department of Health.
Department of Health Permanent Secretary Peter May said: "I am very pleased that the Department has been able to approve this expenditure, which will enable the Trust to provide a safe resilient supply of electricity at Daisy Hill Hospital."
Chief Executive of the Southern Trust, Dr Maria O'Kane has welcomed the news:
"Daisy Hill is an essential part of the Southern Trust acute hospital network serving our entire population from South Down to Mid Ulster.
"We are very proud of the high quality services provided by our very dedicated staff at Daisy Hill. It has a wide range of thriving medical specialties, a very busy emergency department and is a vibrant teaching hospital.
"We are delighted that Daisy Hill has been selected to be a regional Elective Overnight Stay Centre for planned surgery and are currently engaging with health and social care colleagues to develop these plans.
"The approval of the project to improve low voltage electrical capability is a much welcome boost for the ageing hospital infrastructure and another commitment to the future of our hospital. This will provide a foundation to allow us to further expand services with the development of a twin diagnostic scanning suite in the long term.
"I would like to thank our Community Forum, who have worked with Trust colleagues as part of the Daisy Hill Pathfinder Group and the Daisy Hill Future Group for their continued support in improving services and securing this latest investment in the interests of local people.
"Our estates team will be taking a phased approach to installing the low voltage electricity over the next few years and will as always do their very best to minimise disruption while we make these improvements throughout the hospital."