Day Clinical Centre – Relocated to South Tyrone Hospital
10th June 2020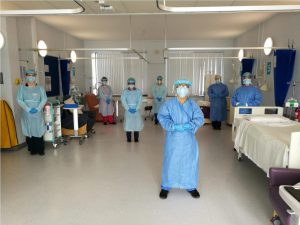 One team who have proved their flexibility and willingness to do whatever it takes for the benefit of their patients during the Covid19 has been the Day Clinical Centre team at Craigavon Area Hospital. The team led by Sister Sarah Hislop and Sister Tanya Balfour initially undertook what effectively was a '1 week makeover' of their unit.
Pre Covid19, the Day Clinical Centre was located to the Ramone Building, which was originally built as an Isolation Ward. Within 1 week, the 6 bedded unit was painted and re-designed whilst still ensuring all patients had their vital treatments.  As the last patient left on Thursday 5 March at 5pm, all Day Clinical Centre furniture was removed and the unit transformed into an Isolation Ward receiving its first patient on Saturday 7 March.
The Day Clinical Centre moved downstairs to the Discharge Lounge, opening its doors on Monday 9 March.  With plans to convert Craigavon Area Hospital to the Covid 19 Hospital, it was quickly realised that this location would not be suitable for the patient group attending the Day Clinical Centre – the majority of who are immunosuppressed.
Staff were on the move again within 3 weeks, this time to South Tyrone Hospital where they opened their doors for business on Monday 30 March.  All the while, they kept their patients fully informed of the moves and the need to ensure social distancing and safe care.  Whilst patients were initially anxious about moving to a new site and travelling further the Day Clinical Centre, staff very quickly put them at ease and their professionalism has shone through.