Developing heart failure services across the Southern Trust
28th February 2022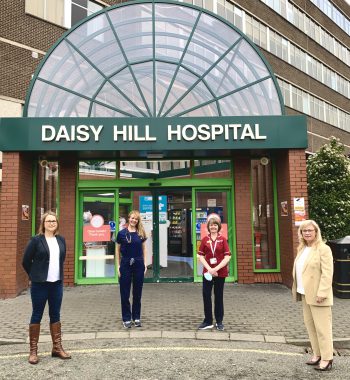 The Southern Trust Heart Failure team have worked tirelessly over the past two years to expand and develop the range of expert services they can now offer to patients.
In addition to Consultant Led Heart Failure clinics led by internationally trained Heart Failure Consultant Cardiologists, the team have transformed their specialist nurse led clinics. By streamlining investigations and their appointment system, waiting times have been greatly improved for patients waiting to access their specialist support.
The launch of a Rapid Access Heart Failure clinic at the height of the Covid-19 pandemic has been a great success. Meeting international standards and the first of its kind in Northern Ireland, the team are now offering a one-stop-shop of diagnostic investigations, consultant expert opinion, specialist nurse advice with planned and timely follow up as needed.
This new development is having a very positive impact on patient care thanks to a multidisciplinary effort from Heart Failure consultants, nurse specialists and cardiac physiologists supported by health care assistants and an administrative team led by Deborah Roulston.
Heart Failure Lead Consultant Cardiologist for the Trust, Dr Patricia Campbell explains: "With a prognosis worse than many cancers, Heart Failure is a chronic illness, affecting two in every 100 people. However, we know that the earlier Heart Failure is diagnosed and treated, the better outcomes for the patients. When patients with Heart Failure can access expert, timely care, their quality and often quantity of life can greatly improve."
Head of Service for Cardiology, Kay Carroll adds: "We have a team of highly experienced, enthusiastic and absolutely dedicated Heart Failure clinicians who have shown great innovation and determination, particularly overcoming the challenges of the pandemic to enhance their services for the benefits of our patients."
The team have been recognised regionally, nationally and internationally in the development of Heart Failure Care.
Heart Failure nurse specialist, Edith Donnelly is currently undertaking advanced nurse practitioner training and this year has been selected to sit on the British Society of Heart Failure Nurse Forum
Dr Alicja Jasinska-Piadlo is currently doing a PhD in Heart Failure Care pathways in Northern Ireland and has been elected as a Heart Failure Specialist of Tomorrow – a subgroup of the European Society of Cardiology Heart Failure Association, representing the Irish Cardiac Society
Dr Alastair Gray is widely published and is currently involved in a number of international Heart Failure clinical trials, including first in human trials and is involved in the development of innovative diagnostics.
Dr Patricia Campbell is widely published and involved in clinical Heart Failure trials. Elected to the Board of the British Society of Heart Failure this year, she is also is a Board Member of the Irish Cardiac Society. Dr Campbell has initiated the Heart Failure subgroup of the Irish Cardiac Society and is on the panel of the CardioRenal Forum UK. She understands the great need for the patient voice to shape how we plan for better care for patients and is proud to sit on the clinical advisory panel of the Pumping Marvellous HF charity – run by and for people living with Heart Failure.
The team are now developing a new virtual Heart Failure clinic directly to Primary Care, which they hope to launch in the coming months. By improving GP access to their specialist support, they aim to offer more patients quicker care and the best therapies to ultimately avoid a hospital attendance.
Kay ends: "With their ongoing commitment and expertise, the team hope to continue to make a very positive impact on people living with Heart Failure across the Southern Trust area."