Direct Assessment Unit at Daisy Hill Celebrates its First Year
3rd February 2020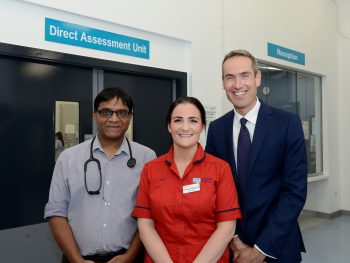 The Direct Assessment Unit at Daisy Hill Hospital has marked its first year in service.
Receiving 2,871 referrals since it opened last February, the unit is having a really positive impact on patient care.
The £1million unit was one of the proposals agreed through the Daisy Hill Pathfinder Project to help sustain and develop unscheduled care services for the Newry and Mourne population.
The unit offers diagnostics, observation and treatment for patients who do not need immediate critical care but do require some medical attention, freeing up space and time in the busy Emergency Department for the most acutely ill.
Congratulating the Direct Assessment Unit team on their successful first year, Interim Director of Acute Services for the Southern Trust, Melanie McClements said:
"With our continually increasing population and growing demand on services, the Direct Assessment Unit has been a welcome addition to our very busy hospital this winter.
"Whilst we appreciate that challenges remain across some services, developments like this show how, through partnership working and innovative thinking, we can start to transform to help more people receive the appropriate care at the right time.
"The team are now well established and are keen to continually improve their service. They are supporting Emergency Department colleagues and Northern Ireland Ambulance Service by taking suitable referrals and encourage local GPs to contact them directly to discuss patients who may need unscheduled hospital care."
Feedback from patients and carers who have used the Direct Assessment Unit has been very positive. Comments include:
"Every aspect of being here has been very impressive, staff are so caring and helpful and dedicated to all the patients. The surroundings are pleasant and clean."
"They were outstanding—they were professional, caring and treated our mother with great dignity. A fantastic team which Newry is lucky to have! Thank you."
Watch a short video clip of the unit below: