Domiciliary Care Team – going that extra mile to support clients in their own homes
8th July 2020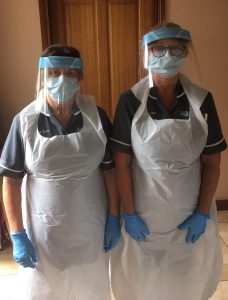 The Domiciliary Care Team continued to work hard throughout the pandemic to support clients to live as independently and safely in their own homes, providing both personal and practical support.
With the arrival of Covid-19, the team had to change the way they provide care, they adapted to added challenges including wearing PPE to keep their clients and themselves safe.
Whilst some clients were initially anxious about domiciliary care staff coming into their homes, staff very quickly put them at ease and their professionalism has shone through.
Dedicated staff went that extra mile by working additional shifts and helping cover house calls and the office staff have been taking on additional duties to ensure the smooth running of the service.