Donation in memory of baby James
18th November 2019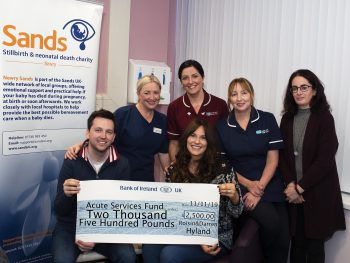 Over £9,600 has been donated to the Southern Trust and SANDS (Stillbirth and Neonatal Death Charity) in memory of baby James William Hyland.
Darren and Roisin Hyland from Newry, raised the amazing total as a way of giving something back in memory of their son James, who they sadly lost in September 2018. The couple said that they are forever grateful for the support they received from the Willow Bereavement Suite at Daisy Hill Hospital and SANDS following James' passing.
The money was raised through a charity pub quiz which was held in the Canal Court in May 2019 and a street party which was held in Cronin Park in conjunction with the Independent Club in August 2019.
Darren and Roisin would like to say a huge thank you to their family and friends for selling raffle tickets and to thank all those who kindly donated to their fundraising events. They would also like to thank the very generous local businesses who also donated prizes for their raffles.
They recently called into the Willow Bereavement Suite at Daisy Hill to donate a £2,500 cheque to the Trust's Acute Services Fund and also presented a cheque for £7,125.55 to SANDS NI.
Thanking Darren and Roisin for their donation, Bereavement  Midwife Shivaun McKinley said: "On behalf of the whole maternity team we sincerely thank Darren and Roisin for their generosity and kindness to think of others following their own such sad loss."
For more information and advice following the loss of a baby https://northernireland.sands.org.uk/sandsni.org