Donation presented to Mandeville Unit
10th December 2021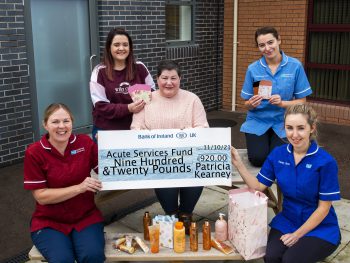 Money and gift vouchers has been presented to the Mandeville Unit following a fundraising event.
Patricia Kearney, of Moy, raised a total £1840 and split it as follows: £920 for the Acute Services Fund and gift vouchers to the value of £920 for patients attending Glenanne Unit.
Pictured are Una Doyle (Staff Nurse), Amy Ward (Acting Clinical Sister), Katie Geddis (Breast Care Nurse Specialist), Patricia Kearney and her daughter Grainne.