Donation to Acute Services Fund
2nd December 2019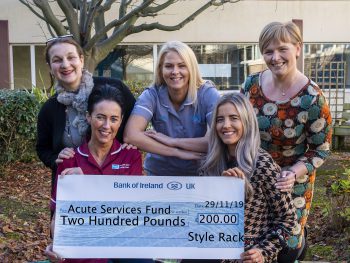 A Lurgan businesswoman has donated 10 per cent of her sales to the Southern Trust for Breast Awareness Month.
Lauren Lindsay from Style Rack, a website that sells women's clothes, donated 10 per cent of her sales from October for Breast Awareness month, donating £200 to the Acute Services Fund.
Lauren is pictured handing over the cheque to Annie Treanor, Breast Care Nurse Specialist and looking on are (back row) Dr Salman – Consultant Breast Surgeon, Tracey McArdle – Admin Assistant and Denise Park – Office Manger Breast Screening.