Exercise Professionals Join Physiotherapy Team
14th July 2023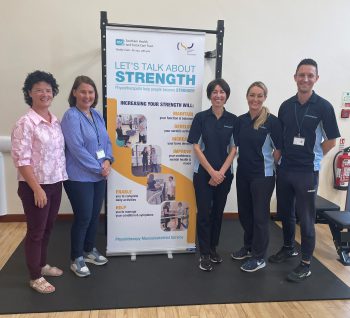 The Southern Trust's Physiotherapy Musculoskeletal team has welcomed two Exercise Professionals to their outpatient team.
With degree level qualifications in physical exercise, Dominika Wojciechowska and James McCorry, are available to offer patients very practical and expert support with their exercise programme.
Patients with musculoskeletal injuries like ligament sprains, muscle strains or other soft tissue pain or damage can be referred to the team by their GP, the 'Phone First' team, ED or through an online self-referral form.
A physiotherapist will assess them, organise investigations, diagnosis and treatment, including a prescribed exercise programme if needed.
The exercise professionals will then deliver and monitor the programme, either one-to-one or in a class setting, offering advice and support to patients with technique and modifying exercises to progress their recovery.
Dominika and James support outpatient services at Daisy Hill, Craigavon, St Luke's and South Tyrone hospitals and are currently running 20 classes across a range of patient groups.
With over 1,000 patient contacts each month, the exercise professionals are a very welcome addition to the busy team as Roisin Lynch, Physiotherapy Clinical Lead Musculoskeletal Services explains:
"We are absolutely delighted to be the first Trust in Northern Ireland to recruit Exercise Professionals to our Physiotherapy Musculoskeletal team.
"With rising demand for our services and continued workforce challenges, we greatly appreciate the skills of all of our multidisciplinary colleagues in improving patient experience and outcomes.
"By offering their time and expertise, Dominika and James really complement the skillset of our clinical physiotherapists supporting patients with their rehabilitation and recovery."
Feedback has been very positive, with one patient saying: "I received excellent step by step instruction to help increase my strength to remain independent at home."