First Dialysis Patient for Craigavon Trauma Ward
1st June 2021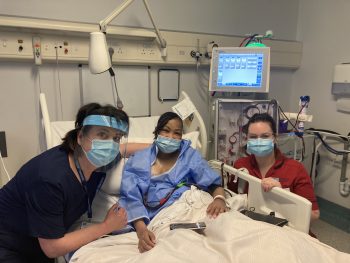 For the first time ever, a renal patient has received dialysis treatment on the Trauma Ward at Craigavon Area Hospital.
Usually, patients with kidney disease from across the Southern Trust who need dialysis, attend the specialist Renal Unit at Daisy Hill Hospital.
However, Maria Correia-Tavares, a renal patient who needed hip surgery at Craigavon Hospital, has been able to continue with her dialysis treatment during her inpatient recovery on the ward. A regular dialysis patient at Belfast City Hospital, Maria required a complex hip procedure that could only be done by the Craigavon Trauma and Orthopaedic team.
Both Daisy Hill Renal Unit and Craigavon Trauma and Orthopaedics Team have been recognised nationally for performance, quality of care and patient experience. Supported by Estates colleagues, they worked together to install a dialysis system on the Trauma Ward and staff from the Daisy Hill Renal Team, have been travelling to Craigavon to deliver her care.
Recognising the huge efforts of all involved, Melanie McClements, Director of Acute Services for the Southern Trust said:
"Previously, renal patients requiring an inpatient stay at Craigavon would be transferred by ambulance back to Daisy Hill for their dialysis treatment.
"Thanks to the huge efforts and dedication of our Renal Team to go above and beyond for their patients, supported by Estates colleagues who, with very short notice, installed the equipment needed, we have been able to avoid this upheaval for Maria.
"Following her successful hip procedure, renal and trauma colleagues have worked together to ensure that whilst Maria makes a good recovery from her surgery, she continues to receive her vital dialysis treatment with ease.
"Offering this outreach dialysis service for patients at Craigavon has huge benefits for patient safety, by minimising the risk of infection, discomfort and pain, reducing the time and cost of an ambulance transfer and greatly improving the overall quality of care and patient experience."
Supported by Estates colleagues, the Renal Team are now working towards equipping all wards across Craigavon Hospital with dialysis points so that they can expand this outreach service if needed.
-Ends-