Foster team's PIPs abseil!
13th May 2021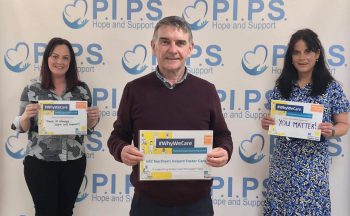 Best of luck to Melanie Coffey, Senior Manager and Elaine Martin, Social Worker, for the Southern Trust's Adoption and Fostering Service who are abseiling down Castlewellan Quarry this Saturday (15th May) to raise funds for PIPs Hope and Support.
Given that this is Mental Health Week and also Fostercare Fortnight, the two organisations have teamed up to mark how much the health and well-being of our young population matters.
Seamus McCabe set up PIPs Hope and Support to support young people in the community following the tragic death of his son Seamas, who ended his life by suicide at the age of 20.
Whilst raising funds for PIPs, the brave duo also want to raise awareness about fostering and encourage people in the community to consider what role they can take to support children and young people in their locality.
PIPS Hope and Support founder and Chief Executive Officer, Seamus McCabe, is pictured wishing Melanie and Elaine the best of luck for their charity abseil.
To find out more about fostering and adoption go to www.adoptionandfostercare.hscni.net
#WhyWeCare #FCF21 #HSCFosterCare